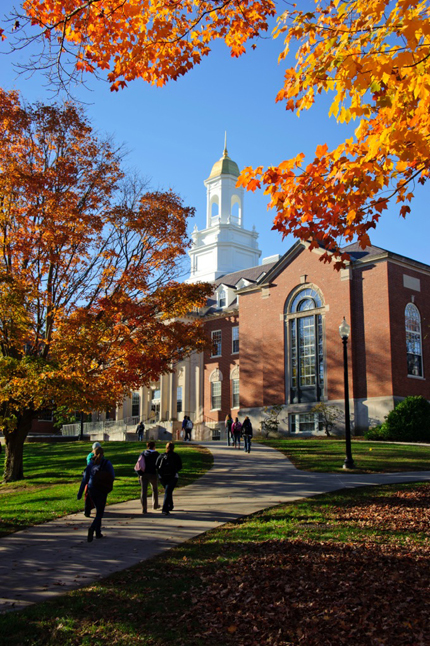 Students Today. Huskies Forever.
Founded in 1881, the University of Connecticut is ranked as one of the best public universities in the United States. With a combination of dynamic faculty, strong athletic pride and an extraordinary sense of community, UConn is a university like no other. Offering over 110 majors and the ability to create a major of your own, a broad range of academic choices is provided. As a public research university, UConn is a hub for breakthrough exploration and scholarship. Faculty members are top experts in their fields, and serve as mentors and advisors to students. Distinctive research opportunities pair undergraduate students with faculty in every academic discipline offered. In addition, UConn's nationally recognized Honors Program features a tight-knit community with a high level of faculty interactivity.
Next Generation Connecticut
Over the past 20 years, UConn has completed a $2.8-billion infrastructure investment program – the most extensive of any public university in the United States. In early 2013, UConn launched Next Generation Connecticut (NextGenCT), a $1.5 billion investment by the State of Connecticut, which has been made to primarily support expansion in the Science, Technology, Engineering, and Math (STEM) fields. Highlights in this 10-year plan include faculty hiring, building new STEM cutting-edge facilities and laboratories, creating a STEM scholars community within the Honors program, and the expansion of UConn's hottest major, Digital Media and Design. NextGen CT will bring opportunities for research and innovation in the STEM fields to the help build Connecticut's future workforce.
Campus Community
With three on-campus museums, concerts and famous performers at the Jorgensen Center for the Performing Arts, and weekly newly-released movies right inside the Student Union's 500 seat theater, UConn students work hard and play hard. Over 600 student clubs and organizations allow students to pursue their passions outside the classroom. Cultural centers offer vibrant, intellectually challenging environments that promote cultural awareness and support students' academic pursuits. Education abroad abounds with over 250 organized adventures in 60 countries, providing an experiential learning opportunity like no other. The word "bored" just isn't in the vocabulary.
Admission Process for Stamps Scholars
In partnership with the Stamps Scholars Program, UConn will provide up to five new full scholarships annually to exceptional Connecticut residents. The scholarship covers the full cost of attendance, including tuition, fees, room, board, and books. In addition, Stamps Scholars receive a $12,000 stipend over four years for enrichment activities such as study abroad or undergraduate research.
For more information regarding Stamps Scholars opportunities, visit http://honors.uconn.edu/stamps-scholarship/
For information pertaining to the admissions process, please select "Stamps Scholars Award" at http://admissions.uconn.edu/content/scholarships
Tel: 860-486-3137
Website: www.admissions.uconn.edu