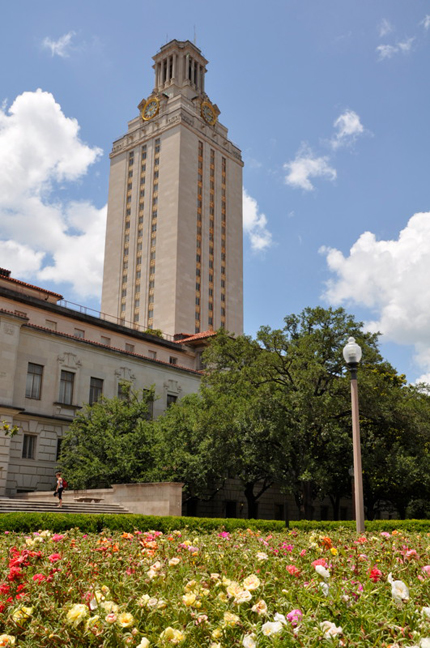 Forty Acres Scholars Program Stamps Scholarship
We say, "what starts here changes the world" and the Forty Acres Scholars Program was created to be a catalyst for driving positive change around the world. Since its founding in 2011, the program has been unlocking the potential of our most gifted young minds for the betterment of society. We offer support for your life at UT and beyond.
Community
Join a vibrant community that will be a lifelong support system.
Scholar cohorts are made up of gifted and passionate students with diverse backgrounds, interests, and majors. Over the years, this group forms a tight bond outside of the classroom through retreats, dinners, and events. The end result is leaving the Forty Acres with a shared experience that can never be recreated.
Connection
Tap into a global network of Longhorns—for life.
Forty Acres Scholars develop a unique connection with their alma mater and its leaders. They have opportunities to meet, discuss, and forge connections with deans and leading faculty, donors, university staff, and influential alumni. Through luncheons, dinners, discussions, and internships, Forty Acres Scholars form profound relationships with top notch professors, thought leaders, researchers, and alumni, as well as their personal Forty Acres Scholars Program donors. During their time on campus, Forty Acres Scholars gain inspiring mentors and build a powerful network to equip them for success in college and beyond.
Discovery
Discover the world—then make the change you want to see.
A generous enrichment stipend means scholars have the freedom to pursue the interests and opportunities outside of the classroom that will positively impact their personal and professional growth. From studying abroad and philanthropic service, to cutting-edge research and participating in real-world experiences in your field of study, we believe your potential is unlocked through experiences both in and out of the classroom.
Financial Freedom
The Forty Acres Scholars Program allows students to put their best foot forward in the post-graduate and professional world as they graduate debt-free. In addition, they have opportunities to conduct research, pursue non-paid internships, work on startup companies of their own, travel, and more throughout their four years of college due to the financial freedom the program provides by covering their tuition and living expenses all four years.
Students who have the best chance of being invited to the Forty Acres Scholars Program Finalist Weekend:
Are well-rounded individuals who distinguish themselves through a variety of leadership roles, extracurricular activities, and community service
Display intellectual curiosity and excel academically
Possess extraordinary intellectual ability and desire to use their ability to be catalysts for change in the world
Exemplify good citizenship and servant leadership
Possess distinguished social skills and interact easily with adults as well as peers
Find out more here: https://www.texasexes.org/scholarships/forty-acres-scholars-program
Tel: 512-840-6495
Website: http://www.utexas.edu/