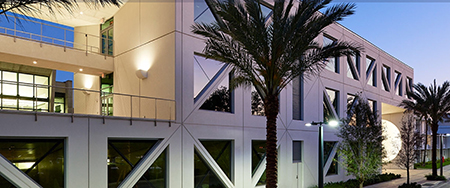 The highly acclaimed Frost School of Music at University of Miami transforms lives through the study and performance of music with the most innovative and relevant curricula in higher education. The Frost School of Music is devoted to excellence and a culture of collegiality, in which a diversity of people, musical styles and careers are valued. Uniquely Frost, the Frost Method Experiential curriculum, a "no boundaries" philosophy, state of the art recording facilities, and the Henry Mancini Institute offers a training experience unlike any other.
Resources from the Stamps Scholars Program and the University of Miami fully fund tuition, plus room and board, for the 19 undergraduate music students comprising the Stamps Distinguished Ensembles. In the course of their studies at Frost these Stamp Scholars will develop as individual performers, as well as experienced collaborative artists, through career guidance by the acclaimed Frost faculty, mentoring by prominent guest artists, support for concert tours and study abroad, numerous ensemble performances, participation in the Frost Symphony and the Henry Mancini Institute Orchestra, and opportunities in recording sessions, television specials and cross genre programming.
This scholarship fund reinforces the Frost School's leadership in launching 21st century performance careers. The stellar top student musicians who are selected through a highly competitive audition process for Stamps Scholars Program at the Frost School of Music are given unique opportunities to hone their skills as performers, but also to bring to the world the greatest attributes of an inclusive, thoughtful musician; the power to listen, react, and create great and transformative art through collective cooperation and musical conversation.
The Stamps Scholars Program at the Frost School of Music attracts top student musicians who, as part of their curricular program, form very special chamber ensembles.
Stamps Jazz Quintet: Class of 2021 follows in the footsteps of the inaugural Stamps Ensemble fall 2009 and the second jazz quintet class of 2017.
Stamps String Quartet: Class of 2022 begin their studies fall 2018. The first Stamps string quartet entered the Frost School of Music fall 2010, the second string quartet in fall of 2014.
Stamps Woodwind Quintet: Class of 2019 will graduate May 2019 and follow in the footsteps of the Stamps Woodwind Quintet class of 2015. Applications are currently being excepted for the Stamps Woodwind Quintet class of 2023.
Stamps Brass Quintet: Class of 2020 follows in the footsteps of the Stamps Brass Quintet class of 2016.
Admission Process for the Stamps Scholarship
To be considered for the Stamps Ensemble Scholarship the University of Miami Undergraduate Application and the Frost School of Music Application must be filed by the December 1st deadline. Auditions for the Frost School of Music must be completed by the March 1st deadline. To learn more about the admissions process click here.
Students are selected for the Stamps Ensembles by recommendation of the performance faculty based on their audition and by the office of admission based on their academic credentials.
Tel: 305-284-2241
Website: http://stamps.frost.miami.edu/