Performing on Broadway and Beyond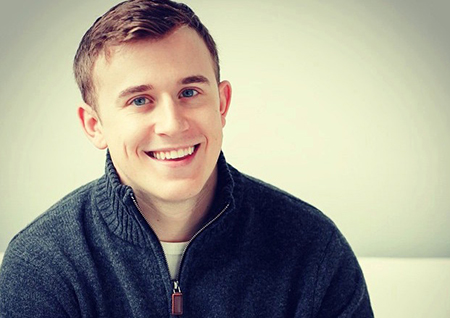 Since graduating from the University of Michigan (UM), musician and conductor Evan Zavada has moved to New York City to pursue his dream of sharing his talents on Broadway.
The Seattle native grew up in a musical home: His mother is a voice teacher, and he began studying piano at a young age. He fell in love with music in 6th grade, when he joined jazz band and started learning saxophone. He traveled around the West Coast playing festivals and continued performing as a student at Garfield High School.
"We traveled to New York, Europe and some less thrilling places like Reno, and I made some of my best friends in that band."
Outside of school, he gigged as a pianist, playing for his mom's voice lessons and music directing his first show.
"I knew I wanted to play professionally, but those experiences helped me find my niche, which was as an accompanist, music director and arranger."
He was drawn to the University of Michigan's revered musical theater program and music school, where he majored in jazz studies through the Artist & Scholar Honors Program. He performed in jazz ensembles as part of his degree program, music directed shows with student groups and accompanied voice lessons to make extra cash.
His freshman year, he "naively said yes to everything" and ended up music directing two shows simultaneously during his second semester.
"In the evenings, you could find me running between rehearsals, looking disheveled and malnourished, but feeling thrilled and like I was doing what I had come there to do."
Someone who heard him play one of those shows led Zavada to his first professional music directing gig, doing that same show the next summer.
During his time at the university, he bonded with fellow scholar Kevin Goldberg, who also played saxophone and piano and is now a music director.
Zavada used his enrichment fund to travel to the Amalfi Coast of Italy to participate in a piano/vocalist-focused program with other UM faculty and students.
"Amalfi was a once-in-a-lifetime experience. Not only was it the most beautiful place I've ever been, I was lucky enough to go there and make music with my girlfriend (now my wife), as well as my piano teacher and some other folks from Michigan, including fellow pianist and Stamps Scholar Ryan Wolfe."
Since graduating in 2015, he moved to New York City, where he has worked as a pianist, arranger and music director.
"I had the opportunity to music direct two off-Broadway shows my second year in the city and to work with lyricist Sheldon Harnick, who has won a Tony and a Pulitzer Prize."
Zavada conducted "Young Charles Dickens," "A Chorus Line" and "Fiorello!" which was reviewed in the New York Times.
"Best of all, while the score has been arranged by the music director, Evan Zavada, for a tiny band — not even a band, really, just two pianos and a violin — it retains its bounce, its bite,its frisky melodic charm, thanks to the musicianship of the players and principals alike," wrote Charles Isherwood.
Zavada enjoyed the experience "because it began as a tiny summer stock production in the Berkshires and blossomed into this very relevant story about corruption in politics that our producers thought would do well in NYC. As it happened, my wife was also in the production, and it was awesome to go on that journey with her."
Zavada gives back as a musician with Rosie O'Donell's nonprofit company Rosie's Theater Kids, which provides music education to public school students across Manhattan. The program is free and gives out a $100,000 college scholarship to one senior each year.
"I was actually introduced to the program by my best friend from college, who was the first recipient of that scholarship after it was founded. It's cool to see how the program has positively affected his life and continues to help kids in every aspect of life."
When he's not performing on stage, Zavada arranges sheet music for musicnotes.com and plays saxophone in Central Park. He also enjoys spending time with his wife Chelsea and dog Ella. For Zavada, music is not only his profession. It's also his hobby.
"It's important for me to create and play for myself, whether that means making a beat, writing a song or jamming with friends."
His immediate goal is to play and conduct a Broadway show, but he also wants to release his own album and travel and perform around the world. For Zavada, as long as he is playing music, he is happy.
"It's no secret that being a musician is not always the most lucrative profession, but the support from the Stamps Foundation allowed me to focus on hustling and going after my goals without having to worry about paying off student loans."
*****
By Hannah Steinkopf-Frank