Combating Climate Change with Physics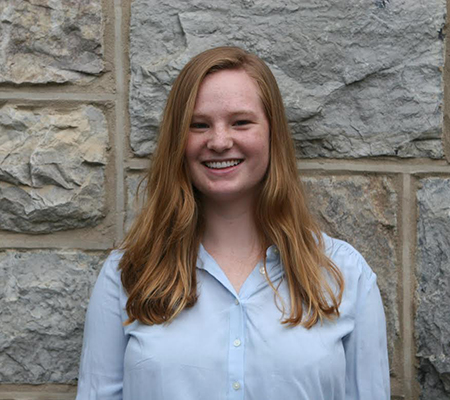 Virginia Polytechnic Institute and State University Stamps Scholar Moira Miller plans to use her backgrounds in physics and Spanish to make a positive impact on the environment, both at home and abroad.
Miller grew up in Iowa, but lived in Australia and finished high school in Arlington, Virginia at Washington–Lee High School. The summers after her junior and senior years, she interned at NASA Goddard Space Flight Center researching a new way of mapping the sediment flow of a planet using craters. "Goddard is a huge science and engineering complex, so it was amazing to be surrounded by all these people doing such interesting research. Getting to go to different lectures and hearing from Nobel Laureates was interesting and conducting research on my own time was something that made me realize that I was passionate about research." Her mom used to be a Spanish professor, and she has always been interested in the language. After high school, they walked the Camino de Santiago together.
She was drawn to the Honors College at Virginia Tech and the personal attention given to her by the physics and honors departments. As part of the first class of Stamps Scholars at the school, she said it has been exciting to shape what she wanted to see the program accomplish. After her freshman year, she used her Stamps enrichment fund to go the American Astronomical Society Conference and the Conference for Undergraduate Women in Physics, where she presented posters.
Following her freshman year, she researched luminous infrared galaxies with Dr. Sara Petty. Under Dr. Duncan Farrah, she worked to get an astronomy simulator program up and running. She is currently in Dr. Giti Khodaparast's condensed matter physics lab setting up optic and laser experiments to study properties of materials. "These experiments have helped me figure out I enjoy research, and I want to continue doing research, most likely in grad school."
In 2016, she used more of her enrichment funds to walk a week of the Camino de Santiago trail and to study abroad in Salamanca, Spain. "That helped me decide that I wanted to commit to the Spanish major. It challenged me in a different way than physics." She took a service learning class in Roanoke, Virginia, where she helped Spanish speakers improve their fluency and literacy through a program with the Mexican government.
At Virginia Tech, the Honors dorm she stays in is a multigenerational, multidisciplinary residential college where she has held leadership positions helping to build camaraderie. She is also a clinic greeter at Planned Parenthood because "I wanted to do something where I could see an impact right away, something that could help make someone's day a little bit easier." In addition, she is on the College of Science Dean's Leadership Council, which helps connect the College with current students and alumni. "It's interesting to hear what they've done with their degrees, both recent alumni and those who come back decades after graduating."
Last summer, she completed a National Science Foundation-funded Research Experiences for Undergraduates (REU) at the University of Washington. She worked with professor David Cobden studying the properties of 2-D heterostructures.
She will graduate fall 2018 and study abroad her last semester in Ecuador. She plans on going to graduate school in material science engineering or working for the government. "If there is a way I could combine my Spanish and science skills, that would be ideal, such as working as a foreign service officer."
She is also passionate about using physics to reduce the impacts of climate change. "I'm looking at material science because that's a way to formulate better batteries and other materials to make our lives more sustainable."
*****
By Hannah Steinkopf-Frank