Pursuing language, math, and much more at the University of Mississippi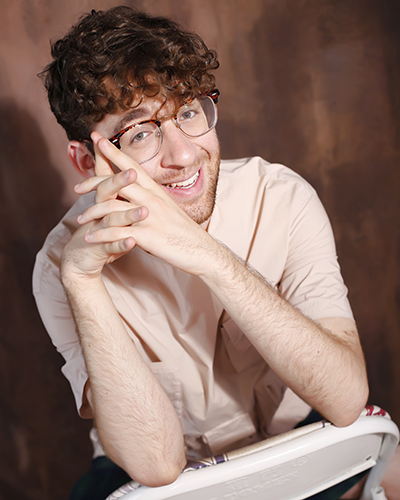 Whether it be Chinese, math, or English, University of Mississippi Stamps Scholar Brendan Ryan strives to be not only a well-rounded student, but also a well-rounded person, spending his free time pursuing interests outside of his studies.
Ryan grew up in Diamondhead, Miss., a small town on the Mississippi Gulf Coast, and attended the Mississippi School for Mathematics and Science. He has always been interested in math and wanted to study something he couldn't teach himself.
After his junior year of high school, he participated in the University of Mississippi's StarTalk, a month-long, residential Mandarin intensive program. It piqued his interest in the language, and during his senior year, he was accepted into the National Security Language Initiative for Youth (NSLI-Y), a Department of State-funded program for high school students interested in studying critical languages.
"That experience solidified my decision to doing everything in my power to master the language. The University of Mississippi has a Chinese Flagship Program, so it was top of my list when I applied for college during my gap year."
A personalized college education
He said the Stamps Scholarship is the reason he decided to attend the University of Mississippi because it would give him the power to shape his education how he wanted.
"It's very empowering to be surrounded by students and administrators who encourage you and force you to break the mold of education and make the most out of the undergraduate experience."
In his free time, he enjoys studying languages, reading, writing, and going to campus nighttime lectures, which he said have been some of his most enriching academic experiences. Some weeks, he will go to a different event every single night.
This interdisciplinary approach also applies to his academic interests.
"As I've studied more math at university, I've noticed how the logic skills I've learned are spilling over into my essays and improving my debate skills."
Travel in China
In summer 2016, he used his Stamps enrichment fund to participate in the Fulbright Hayes Group Project Abroad in Xi'an, China, where he lived for seven months. He took Mandarin and direct enrollment classes and interned at an auction house for six weeks, which he described as an interesting look into the Chinese art world. He also traveled to many cities, including Beijing, Shanghai, Guangzhou, and Chengdu.
He spent the last academic year completing the Chinese Flagship Capstone Year. He took classes at Nanjing University and interned in the spring at a tech incubator called Youthspace.
For the past two summers, he also served as coordinator for the Mississippi StarTalk program. He said returning to the program meant a lot to him because it's where he was first exposed to Chinese and that it was gratifying to expose new students to the language and culture.
Looking forward
Going into his senior year, his goal is to continue being a versatile student.
"For me, part of the purpose of college is learning how to talk to people of many different disciplines. I want to grasp the basic concepts and vocabularies of a wide breadth of disciplines so that in my career, I can relate to most anyone and understand a little bit about how their college experience affects how they see the world."
After graduating, he plans to go to graduate school because he is not ready to stop his education quite yet. He wants to continue pursing East Asian languages and culture.
"The Stamps Scholarship allows me to make school my job. I get to put all my time into my studies and hobbies, which has helped me get a better idea of where I want to invest my time when I am working."
*****
By Hannah Steinkopf-Frank