Daughter of Immigrants Plans to Pursue Career in Migration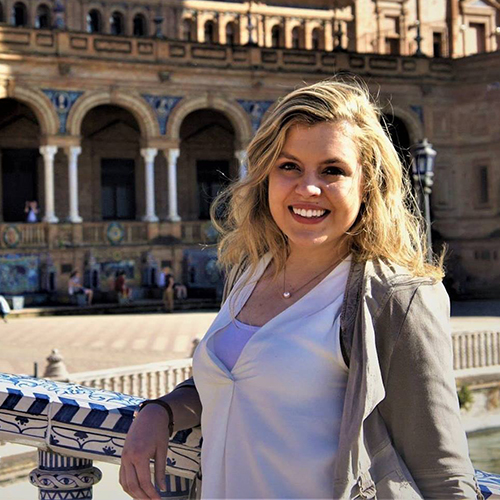 University of Pittsburgh senior Fiona Eichinger strives to use her global upbringing to tackle migration issues. Eichinger, the daughter of German immigrants, grew up in West Chester, Pa., and attended Delaware County Christian School. She was raised with an "adopted" family of friends and neighbors from Puerto Rico, Spain, France, and China.
She was drawn to the University of Pittsburgh because she wanted to "become part of a community built on mutual respect, encouragement, and curiosity." She was inspired by past Stamps Scholars and how they used resources provided by the scholarship to give back both locally and around the world.
"I knew I wanted to join this community that not only invests in and impacts their own scholars, but also enables them to do the same for others."
Campus activities
During her freshman year, she developed an interest in public health as well as international issues. She will earn a bachelor of philosophy in biology and international and area studies with a global health concentration. She is also double minoring in chemistry and Spanish with a certificate in African studies. At Pitt, she combines this interdisciplinary coursework with refugee-focused research and internships to explore the intersection of health, culture, policy, and migration.
"I am fascinated by public health's approach of integrating social concern and science to care for the physical, social, and mental needs of the public."
She has conducted research in the biological sciences and anthropology. In her freshman biology research lab she found, named, and researched the genome of new bacteriophages, viruses that infect and replicate within a bacterium. She also worked with Dr. Tomas Matza on a project evaluating an intervention program for child development centers in El Salvador. Through this research, they hoped to better identify the community context, such as existing paradigms of care and structural barriers, in order to provide quality childcare.
"Reading, translating, and coding the ethnographers' weekly reports reminded me of the importance of recognizing a community's customs, priorities, and assets when trying to bring about change."
Researching and giving back to refugees
Dr. Matza has now become her advisor for an independent comparative research project on refugee resettlement. For this work, she was awarded a THINK Research Fellowship and ACT Research Fellowship through the University of Pittsburgh Honors College. To understand the priorities and outcomes of different resettlement models, she conducted interviews in Pittsburgh, Germany, and Spain with refugees and staff of nongovernmental organizations.
She continues her dedication to migrants through the student organization Fostering Opportunities for Refugee Growth and Empowerment (FORGE). The club offers weekly tutoring for refugee families, college prep for high school-aged refugees, and general body meetings for members to discuss current events and promote advocacy on campus. She has served as a tutor and education chair and co-president of FORGE. As co-president, she created a refugee-led steering committee to foster student accountability and refugee ownership of the organization. She currently serves as the inaugural steering committee chair.
"Being part of this group has deepened my understanding of the refugee community and led me to pursue internships at a refugee camp in my family's German hometown, a migrant-focused NGO in Spain, and a welcome office for refugees in Berlin."
Through these internships, she initiated and led an English course and mentoring program for refugee youth, tutored German, assisted in planning and executing community mediation initiatives, accompanied refugees to appointments, and led a weekly women's language group at a neighborhood cafe.
She has also studied abroad in Tanzania, where she took courses focused on public health, culture, and Swahili. She researched the coexistence of traditional and modern medicine in the country and interviewed two traditional healers, one of whom is the president of the Federation of Traditional Practitioners in Tanzania.
Looking forward
After graduating, she plans on taking a gap year to work or study Arabic abroad before pursuing master's degrees in refugee and forced migration studies and policy evaluation. Ultimately, she hopes to work for the U.S. State Bureau of Population, Refugees and Migration or an international migrant-focused NGO.
"The Stamps Foundation's incredible generosity fills me with gratitude for their willingness to invest in the lives of others and inspires me to multiply the gift I have been given by doing the same."
*****
By Hannah Steinkopf-Frank