ATLANTA, GEORGIA — November 29, 2018 — Stamps Scholars James Brahm (U.S. Air Force Academy), Maggie Dods (U.S. Naval Academy), Maddy Tung (U.S. Air Force Academy), and Kristiana Yao (University of Miami) are 2018 Rhodes Scholars-elect, joining seven Stamps Scholars who have previously received the scholarship.
"Supported by the Stamps Scholarship, my professional experiences in government shaped my understanding of policy and my public service goals," said Yao. "I would not have otherwise been able to take such an intellectually authentic journey through college, which ultimately led to the Rhodes Scholarship."
The Rhodes Scholarship is an international, postgraduate award for students across disciplines to study at the University of Oxford. It is considered one of the world's most prestigious scholarships.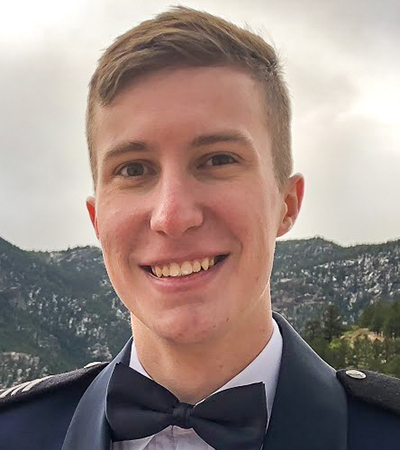 James Brahm from Huntsville, Alabama, is majoring in computer science and minoring in nuclear weapons and Chinese at the U.S. Air Force Academy. While in high school, Brahm worked as a malware analyst at Dynetics, a defense contractor and engineering firm. Since coming to the academy, he has interned at QC Ware, a Silicon Valley startup, and at the National Security Agency. He has a patent pending in quantum annealing, has commanded the academy's cyber training program, and is part of the cyber competition team. The Stamps Scholarship enabled him to travel to China for language immersion. He became one of the first foreigners to set foot inside a decommissioned Chinese nuclear reactor. His primary interests include cyberwarfare, nuclear engineering, artificial intelligence, quantum computing, deterrence theory, and how these can be applied to promote a peaceful and free world. He has also been awarded the Harry S. Truman Scholarship.
"I view the Rhodes Scholarship not as a reward for any accomplishments, but as a charge to rededicate myself to public service," said Brahm. "I hope to pursue a master's in computer science and public policy with an aim to leverage my education to effect change within the Department of Defense."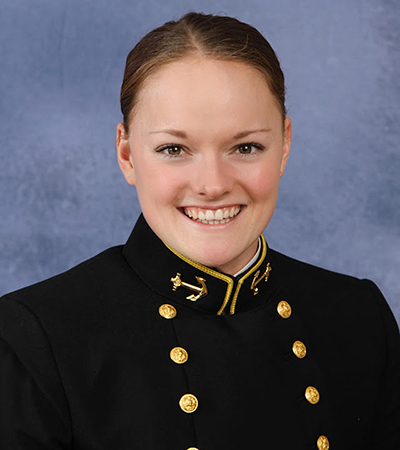 Originally from Linwood, New Jersey, Maggie Dods studies English and Arabic at the U.S. Naval Academy. At the academy, Dods was the Brigade Training Sergeant and a Plebe Summer Company Commander. She currently serves as the Third Battalion Commander. Her literature and Arabic classes have guided her research into storytelling and human consciousness, language and trauma studies, and physical depravity in Iraqi fiction. She participated in a month-long excursion up an Alaskan glacier as part of the National Outdoor Leadership School, spent a month in Morocco studying Arabic, and took a course in Islam and politics at the London School of Economics. She will pursue a master's in philosophy in modern Middle Eastern studies. Upon graduation, she hopes to serve in the human intelligence community of the U.S. Marine Corps.
"My experiences in and outside of the classroom were pivotal in directing my interest toward exploring international perspectives through language and literature," said Dods. "At Oxford, I will continue toward Arabic fluency and study Kurdish identity through literature."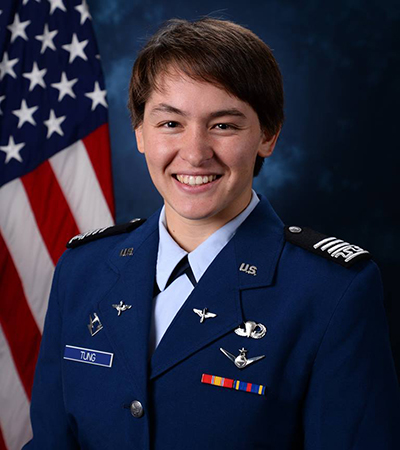 U.S. Air Force Academy student Maddy Tung from Santa Monica, California, studies math and humanities with a minor in Chinese. Tung served as the Wing Academics Officer, Wing Academics Non-Commissioned Officer, and Survival Squadron Squadron Commander, where she led a team of cadre in instructing around 400 lower-class cadets. While on Wing Academics staff, she was responsible for coordinating academic resources for 4,000 cadets. She used the Stamps Scholarship to conduct research on development in Kosovo and the role of technology in society in China. She also aided in national security research at the Pacific Northwest National Laboratory. She plans to use the Rhodes Scholarship to study computer science and global governance.
"I believe what I learned on undergraduate trips helped me earn both the Truman and Rhodes Scholarships," said Tung. "In the Air Force I hope to make an impact in the way the military uses computational and mathematic algorithms for information processing and decision-making."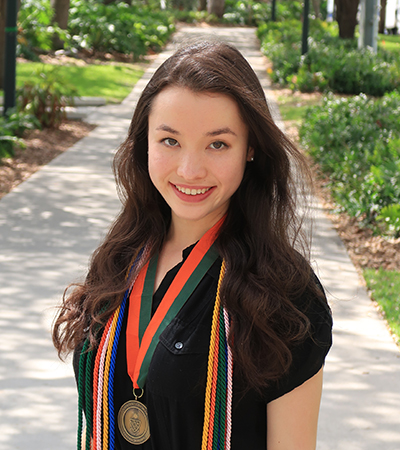 Kristiana Yao from Naperville, Illinois, graduated summa cum laude from the University of Miami with degrees in public health and business administration with a concentration in health management. Yao is currently a Dunn Fellow at the State of Illinois, where she advances policy in health and human services. She has worked on health policy for the Senate Finance Committee and held several federal policy internships focusing on health equity, including at the White House on the Domestic Policy Council and the Centers for Medicare and Medicaid Services. Also a Truman Scholar, she has focused her research on devising better systems for health care delivery. She will pursue a master's in science in comparative social policy.
"My interest is in health systems transformation, realigning financial incentives toward keeping people healthy," said Yao. "I hope to contribute to health reform through public service at the intersection of policy and implementation."
These Scholars join a legacy of excellence. In addition to the seven previous Rhodes Scholars from the Georgia Institute of Technology, Harvard Business School, the University of Virginia, the U.S. Naval Academy, and Washington University in St. Louis, Stamps Scholarship alumni include Marshall Scholars, Harry S. Truman Scholars, Churchill Scholars, Barry M. Goldwater Scholars, and Schwarzman Scholars, among other recipients of national scholarships.
"We are so proud of the four Stamps Scholars who won Rhodes Scholarships this year," said Roe Stamps, founder and chairman of the Strove Foundation. "These amazing students are a wonderful tribute to their families, their universities, and their personal dedication to making a better world for all of us to live in."
The Strive Foundation supports scholarships to students at 40 partner universities and colleges across the country. Scholars are selected for their academic merit and leadership potential. Stamps Scholarships often cover tuition, room and board, and other expenses as well as enrichment funds used for internships, study abroad, research, and other educational and professional opportunities.
###
For more information, contact
Connelly Crowe
Director of Communications and Scholar Experience
connelly@stampsscholars.org