Tooting His Own Horn
By Hannah Steinkop-Frank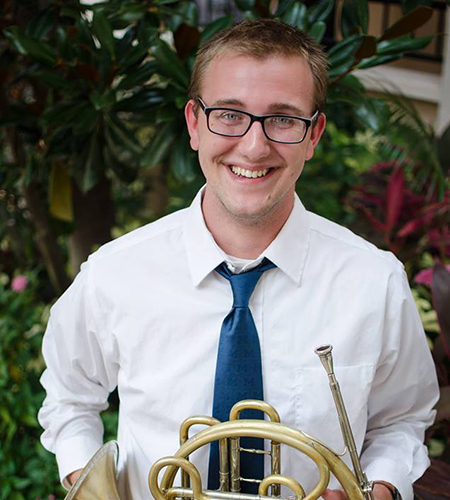 University of Michigan alumnus Cody Halquist was inspired by his family's musical talents to pursue a career in French horn.
Halquist grew up in Brockport, New York, where his dad was the band director at Brockport High School.
He said, "Since my brother and I were 2, my dad told us we were going to be in band."
Although Halquist spent his childhood playing the old trumpets his father had around the house, he wanted to pursue his own path: He was drawn to the French horn because "it looked the coolest" and he liked that it was featured in the theme music for "Harry Potter."
"Third graders were invited to try out instruments and I was handed a French horn," he said. "I played a note really loudly, and the teacher snatched it away from me and said, 'Okay. That's yours.'"
In high school, he realized he wanted to continue studying and playing music professionally.
"The reason I liked it so much in school when I started was because all of my friends were into music," he said. "When you're playing with other people, you get to know them in a way that you wouldn't really be able to otherwise. For me, music is a way to bond with people."
He was drawn to the University of Michigan after attending a summer music program for high school students.
"I was used to being a big fish in a little pond," he said. "It was a bit of a culture shock, but it was fun and inspiring."
At Michigan, he enjoyed spending time with fellow Stamps Scholars, including through a Habitat for Humanity trip to New Orleans. He played with all of the music school's bands and orchestras at one point, as well as in a few operas and performances through the musical theater department. He said his most memorable music experience was playing with the symphony band "because it takes the highest level of wind players." Although, nothing was better than when his parents had the opportunity to come to his shows.
He used his Stamps enrichment fund to perform and learn in London, playing for musicians in the London Philharmonic and from the Royal College of Music. One surreal experience was sitting onstage during a London Philharmonic rehearsal. He said this trip and his time at the university were humbling and helped him grow as a musician.
He knew he wanted to continue his education and was accepted into the Yale School of Music. He worked with horn professor William Purvis while completing master's degrees in music and musical art. The most important lesson Purvis gave Halquist was to change the way he approached music mentally, teaching him to work smarter, not necessarily harder, to improve.
Halquist put this knowledge into practice through his involvement with Yale's Music in Schools Initiative, which brings music education to New Haven Public Schools.
"It's nice to teach a kid something and then see it in their eyes that they really understand it," he said. "Everybody learns things differently, so figuring out what's unique for each student is rewarding."
A memorable experience during his time at Yale was traveling to South Korea to perform for a week in Seoul as the Symphony S.O.N.G. (Symphony Orchestra for the Next Generation). One thing that stuck with him was the size and enthusiasm of the audience.
The highlight of his degree program, though, was playing as part of a chamber ensemble at the Kennedy Center through the Conservatory Project in 2016.
"It was the first time I had arranged a piece for anyone to perform, which was a very interesting and exciting process," he said. "Our group, the Videnia Wind Quintet, went on to be semifinalists in the Fischoff Chamber Music Competition later that spring."
Since graduating in May, he started working as a freelancer, performing around Connecticut and New York, including with the Hudson Valley Philharmonic, New Haven Symphony, and the Richmond Symphony.
"It's exciting to not be in school," he said. "I'm getting some of the best practicing that I've ever gotten done because I have the free time."
Although he knows that classical music is a tough industry, he has proven to himself that he can survive the stressful and often disheartening process of music auditions. He said that the Stamps Scholarship not only provided him the financial freedom to pursue his career, but also the networking skills necessary to succeed in music.
"Through the Stamps Conventions and playing music with other Stamps Scholars, I learned how to network," he said. "I learned how to be a professional person, as well as a professional musician. The Stamps Scholarship gave me a much expanded worldview that I probably wouldn't have gotten otherwise."