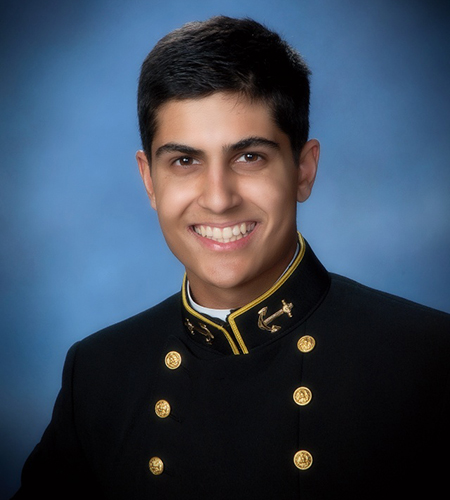 ATLANTA, GEORGIA — February 14, 2018 — Stamps Scholar Yogaish Khastgir (U.S. Naval Academy) is a 2019 recipient of the Schwarzman Scholarship. With the support of the scholarship, Khastgir will complete a one-year master's degree in global affairs with a concentration in economics and business at Tsinghua University in Beijing.
"The Stamps Scholarship has empowered me with the resources and confidence to pursue even my wildest ambitions," said Khastgir. "I am grateful for the generous support of the Stamps Foundation, which has made possible experiences that have shaped my understanding of the world and vastly contributed to my education."
Four Stamps Scholars have been awarded a Schwarzman Scholarship since its inception in 2016. The program gives the world's best and brightest students the opportunity to develop their leadership skills. Whether in politics, business, or science, the success of future leaders around the world will depend upon an understanding of China's role in global trends.
Khastgir said, "I hope the experience of living in Beijing will give me a sense for the dynamics that enabled China's rapid rise, and the psychology that informs the decision making of Chinese leadership."
Originally from Oklahoma City, Oklahoma, Khastgir is pursuing a degree in computer science with a minor in Spanish. At the Naval Academy, he interned with Naval Intelligence and at the Maui High Performance Computing Center (MHPCC), conducting research in machine learning and natural language processing. While at MHPCC, he worked under the guidance of associate professor Nate Chambers to utilize neural networks for combatting online sex trafficking by detecting illicit posts in online classifieds.
He has traveled to Cartagena, Colombia, to experience life at the Colombian naval academy, the Escuela Naval Almirante Padilla, and to Beijing to study computer science under the direction of professors at Tsinghua University.
An aspiring naval aviator, Yogaish completed his Youngster summer cruise on USS Carl Vinson and participated in the Naval Academy's powered flight program, learning to operate a single-engine general aviation aircraft. He enjoys sharing his passion for flying with fellow aspiring aviators in VTNA, the Naval Academy's aviation club.
Many of his favorite experiences at the academy have been teaching and mentoring kids through the Midshipman Action Group's Mids for Kids program and other outreach efforts organized through the Naval Academy STEM center. He has previously served as the 6th Battalion Training Sergeant and currently serves as a squad leader in 26th Company.
Khastgir joins a legacy of excellence. In addition to three previous Schwarzman Scholars from the U.S. Military and Naval Academies, Stamps Scholarship alumni include Rhodes Scholars, Marshall Scholars, Harry S. Truman Scholars, Churchill Scholars, and Barry M. Goldwater Scholars, among other recipients of national scholarships.
The Strive Foundation supports scholarships to students at 40 partner universities and colleges across the country. Scholars are selected for their academic merit and leadership potential. Stamps Scholarships often cover tuition, room and board, and other expenses as well as enrichment funds used for internships, study abroad, research, and other educational and professional opportunities.
###
For more information, contact
Connelly Crowe
Director of Communications and Scholar Experience
connelly@stampsscholars.org