By Hannah Steinkopf-Frank
Discovering the mysteries of the universe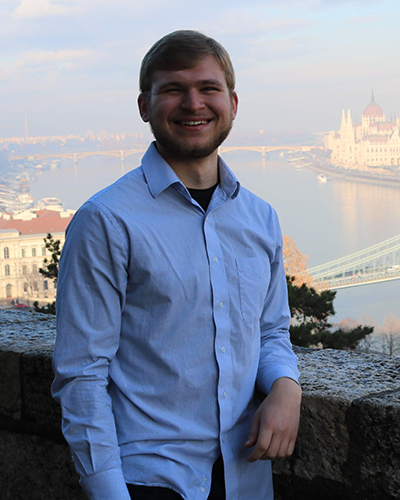 University of Maryland Stamps Scholar Christopher Bambic plans to combine his interests in astronomy and physics to teach future astrophysicists and research black holes, galaxy clusters, and the high-energy universe.
Originally from Euclid, Ohio, Bambic always was interesting in what lay beyond Earth's atmosphere: He remembers using the phrase "astrophysicist" when he was in 5th grade.
"I always liked stars, space, and exploding things like supernovas." he said. "But when I hit grade school and started learning a little bit about physics, I became fascinated by the idea of figuring out how this crazy stuff works."
He attended Saint Ignatius High School, where he competed with the astronomy team and played saxophone in the marching band, serving as drum major his senior year. One of his biggest involvements was Science Olympiad. He built a Rube Goldberg machine, a pipe instrument, and a robotic arm. He said he enjoyed "solving these small, compact problems and figuring out how to loop them all together. Science Olympiad gave me something to work toward that had a competitive structure."
Researching the stars
He was interested in the University of Maryland because of the strong push for undergraduate research. Among Stamps Scholars, he had a unique experience with the application process: He received the Stamps Scholarship while in the hospital with a collapsed lung.
"The scholarship gave me the confidence to know I was doing the right thing and Maryland was the right place to go," he said. "With all my family visiting me at the time in the hospital room, I was able to hit the accept button for Maryland."
In addition astronomy, he added a physics major because it "gives you the background to ask the question of why something is going on: How can we truly analyze it?"
He already began conducting research his freshman year, remotely studying gamma ray detection on a mountain in Central Mexico at the HAWC Gamma Ray Observatory. He worked in a lab exploring how photomultiplier tubes pick up signals from gamma ray-induced particle showers and figuring out if there were calibration problems causing incorrect measurements of gamma ray energies.
His first internship was at the NASA Goddard Space Flight Center on the Laser Interferometer Space Antenna (LISA) Pathfinder Mission, a technology demonstration for a future gravitational wave observatory in space that can search for supermassive black hole mergers. He focused on the engineering side of making a model of the spacecraft's control system functions.
"You need the spacecraft to remain perfectly still while it's in orbit," he said. "Ironically enough, even in empty space, it's hard to keep something still because there will always be kicks from tiny meteorites and the solar wind." Pathfinder was launched in 2015 and exceeded mission expectations.
Gaining teaching and international experience
His sophomore year, he taught 40 students as a teaching assistant for an astronomy class. He was involved in the Society of Physics Students and the AstroTerps Astronomy Club, for which he served as president. He also gave back to the community through service and outreach opportunities, including tutoring with the Catholic Student Center and the physics department.
In summer 2016 at Boston University, he studied heliophysics, the interaction of the solar wind with the rest of the galaxy. One of his most memorable college experiences was going to a conference with his advisor Chris Reynolds. He interacted with leaders in the astrophysics community and realized many of his role models were real people too. He said, "They're fun to talk to, their work is fascinating, and they were supportive of me as a young student." At this conference, he met Professor Andy Fabian, who was Reynolds's graduate advisor at the University of Cambridge.
The summer before his senior year, Bambic travelled to Cambridge to conduct research with Professor Fabian. With the support of the Stamps Foundation enrichment fund, he worked at the Institute of Astronomy studying galaxy clusters and the plasma that is held gravitationally to them. He researched the heating in these clusters caused by a supermassive black hole.
"We know this is an important connection because it determines a lot in terms of how galaxies are formed and how the universe evolved, but the actual physics going on is not well understood," he said. "I used data from X-ray space telescopes to study these clusters." This built on his theoretical research at Maryland on supercomputer simulations using a plasma approximation called magnetohydrodynamics. During the solar eclipse, he attended the High Energy Astrophysics Division Meeting of the American Astronomical Society in Sun Valley, Idaho, to present his research.
His senior year, he switched his research slightly to plasma physics, working with Professor Bill Dorland, the head of the Honors College when he was applying to Maryland. Professor Dorland influenced his decision to attend the university.
Continuing education
Bambic graduated the University of Maryland as the University Medalist for the Class of 2018 and winner of the J.R. Dorfman Prize for Undergraduate Research. He was awarded a Churchill Scholarship and is currently pursuing his master's in philosophy in astronomy at the University of Cambridge. He is conducting theoretical studies of supersonic jets from black holes in galaxy clusters and observational work with NASA's Chandra X-ray Observatory. Outside of research, Bambic is rowing with Churchill College, supervising students, traveling Europe, and remaining involved with outreach activities at the Institute of Astronomy.
This fall, he will begin his Ph.D. in astrophysical sciences at Princeton University as a Centennial and National Science Foundation Graduate Research Fellow. He plans to become a professor of astrophysics or work for NASA, continuing researching and teaching. He is interested in the administrative and policy aspects of astrophysics.
"The main thing the Stamps Scholarship has done is give me the freedom to explore opportunities even when they don't seem possible," he said. "The Stamps Scholarship allowed me to pick my own pace and always embrace any opportunity that arose."