By Hannah Steinkopf-Frank
World-traveling filmmaker Emma Rappold hopes to make Hollywood more equitable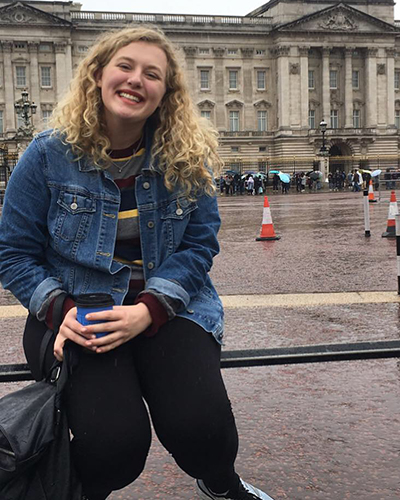 University of Texas at Austin Stamps Scholar Emma Rappold has worked in the entertainment industry for 13 years. Growing up in the small town of McKinney, Texas, Rappold started doing voice over work for Radio Disney when she was 8 years old. Now, the college junior has interned with many leading film companies and produced her first movie with fellow Stamps Scholars.
While she enjoyed acting as child, she wanted a career in the media industry that felt more purposeful, which led her to writing and directing. In high school, she began teaching acting classes. She said, "I like working with actors so much more and that big picture work was very exciting."
Choosing a film school
She knew she wanted to study production and was drawn to the University of Texas, the only university with a F.C.C.-licensed television station. In addition to majoring in radio, television, and film studies, she has an art history minor. Her freshman year, she explored comedy writing and acting for "Long Horn Late Night," a sketch comedy "Saturday Night Live"-style show.
"Every week we had to write a new sketch, make edits, and perform live," she said.
"Some sketches I worked on were hysterical, and some completely bombed. This attitude and training gave me the confidence to just put media out there."
She spends her free time at museums and is a docent at the university's LANDMARKS art collection, where she gives tours. She is interested in the ways visual art intersects with filmmaking, which is why she is also pursuing photography.
"It challenges me to find different ways to present art," she said. "You have to be able to reach an everyman audience, but also tailor to a lot of different experience levels."
Entering the international film market
After her freshman year, she went with fellow Stamps Scholar Jill Young to the French Cannes Film Festival, one of the major markets where films are bought and sold. She traveled with the American Pavilion and worked with Film Nation, an international sales company that helps finance movies. She said, "To be there and be working made me realize I was part of a larger mechanism. I learned a lot about the global politics of movies."
Since it was her first time leaving the country, she traveled afterwards to Paris, Bruges, and Amsterdam. This trip inspired a love of travel. She spent last fall abroad, first at the Toronto International Film Festival with Film Nation, where she got to see many of the year's most buzzworthy films.
She said, "As a filmmaker, the most educational thing I can do is have a space to watch a whole bunch of films with an audience and have the reaction and read the criticism around it."
After, she studied abroad in England at the University of Sussex, taking documentary and photography classes.
"I wanted to do work in a space that looked different than Austin as a portfolio differentiation," she said. "I think you can get very comfortable where you're working, but when you don't know anyone, it challenges you production-wise."
She also interned at Mister Smith Entertainment, a London-based film production company, in its international marketing department and for Path?© UK, which makes historical films.
She said, "I learned a lot about British history. It was a cool experience because I had to work for mainly a British audience."
To grow her theatrical education, she saw many West End performances and also went to the London Film Festival. She furthered her international travels, visiting Berlin, Rome, Barcelona, and Vienna.
Making her first film
These global experiences inspired Rappold and Jill Young to start their company Young/Old Productions. They met during the Stamps Scholarship interview process and as a writing pair, are passionate about exploring pressing social issues. They decided to make a film in December 2017. In a few months, they wrote a script called "Dear Leo" with Young as the star.
"Dear Leo" follows a young queer woman during her transition from high school to college and is told through the perspective of letters exchanged with her younger cousin Leo.
"It's rooted in our own experiences and emotions and how we felt in eighth grade when we didn't know anything," she said. "It deals a lot with her friendships and figuring out who are truly her friends."
Fellow Stamps Scholar Yessmeen Moharram served as a producer and alumnus Connor Frew created the poster and title cards. Almost all of the cast and crew were under the age of 22.
Filming in only 25 days with a micro budget was ""a bodily and emotional task, having to stay with it and dealing with that stress because something goes wrong every single day."
They are currently editing the film, having received a grant from the Austin Film Society, a group created by renowned filmmaker Richard Linklater. The funding allowed them to hire a composer and orchestra for original music. They are excited to share the film on the festival circuit.
"I want to make meaningful, ethical, resonant content," she said. "I see myself as a director most of all, so I want to work on that long-term, honing and championing it. I'm less concerned with how many people see my things than how deeply it affects people."
Creating a more equitable film industry
Rappold and Young are already working on new projects, including a thesis film. They hope to produce other's films and build a community of creators to uplift marginalized voices. This past semester, Rappold also started a writing group to workshop screenplays. For her final semester, she will live in Los Angeles to intern and take classes.
"We always talk about how the Stamps Scholarship is not just the money," she said. "But the money has allowed me to do so much. I'm a better person for having gone abroad and believe in my own strength so much more. It empowered me to take risks and has given me a community of people to do it with me."