Broadcasting the World of Sports
By Hannah Steinkopf-Frank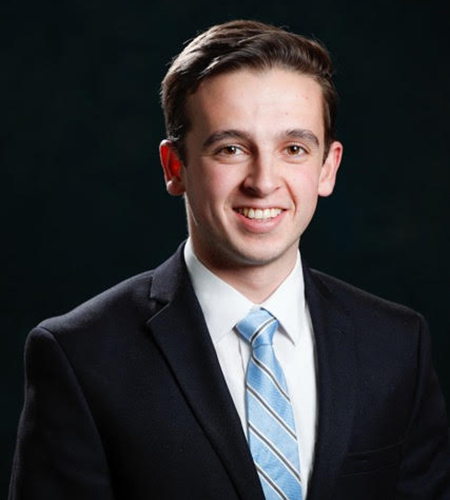 University of Notre Dame Stamps Scholar David Korzeniowski shares his love of sports and storytelling as a television broadcaster.
Korzeniowski grew up in Sudbury, Massachusetts, outside of Boston and attended St. Sebastian's School, where he was involved in Moot Court, a debate club. He realized he had a passion for public speaking as well as sports. Through his subscription to Sports Illustrated Kids, he learned about Play By Play Sports Broadcasting Camp. For six summers, he practiced talking in front of a camera and hosting radio shows and heard from speakers in the broadcasting industry.
"I got really excited about it and could see myself in their shoes," he said. He became involved in the high school A.V. Club, which put on morning announcements, and was the basketball team manager. He wanted to attend a college with strong sports broadcasting and a journalism program.
"At Notre Dame, there were opportunities to get on the air as a freshman," he said. "I wanted a school that was passionate about sports and Notre Dame fit that."
Campus involvements
Currently a junior, Korzeniowski is majoring in film, television, and theater. Outside of class, he is part of Fighting Irish Media, the communications wing of the Notre Dame athletics department. He broadcast his first game spring of his freshman year and has gone on to broadcast for over 10 sports, from basketball to soccer to track and field.
He spends hours researching team stats and individual players. He estimated he's called between 50-75 Notre Dame games. He also works with NBC during the football season, helping behind the scenes in production and meeting experienced broadcasters.
"I think broadcasters are invaluable," he said. "When you're watching a game, say its two teams you've never watched before, the broadcasters are the ones informing you. They're telling you who the players are, what their stories are."
He said this storytelling helps him engage viewers. He highlighted a catcher whose father had defected from Cuba and helped his son develop a love of baseball. He said, "That was something we talked about during the broadcast because that was an interesting story that viewers were going to connect with more than just his statistics."
The summer after his freshman year, he worked as a counselor at the Play by Play Broadcasting Camp. He said, "Being on the other side and teaching kids who are interested in sports broadcasting was fun and rewarding."
In the big leagues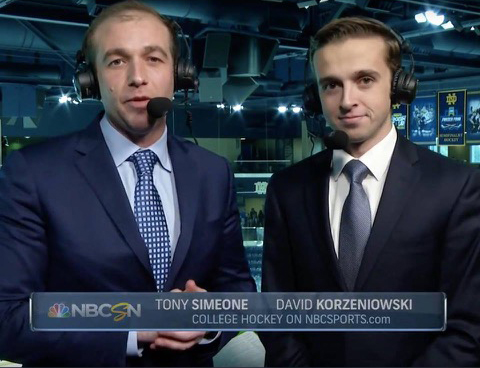 Last summer, he used his Stamps Scholarship enrichment fund to intern as a broadcaster for the Falmouth Commodores of the Cape Cod Baseball League, a competitive summer conference. He called 45 games as the team made the play-offs. This summer, he will return to the Commodores as a play-by-play broadcaster as well as the head media intern.
Beyond sports, he writes for the monthly campus student magazine Scholastic. Serving on the editorial board, he has the opportunity to go outside of his journalism comfort zone, most recently writing a cover story about mental health on campus.
"That's something I've seen affect my friends and is an important issue that still needs to be talked about more," he said. "We interviewed a bunch of students as well as representatives from some of the organizations and resources that Notre Dame offers."
For fun, he enjoys playing basketball and running through campus. He's participating in his first half-marathon in April. He also works in Notre Dame admissions, organizing recruiting weekends for prospective students, and is involved in community service. Last spring break, he went on a trip Kentucky, where he volunteered at The David School, a place for students with educational disabilities.
A thesis and beyond
Currently, he is planning a senior thesis exploring how media and sports are ways for the international Polish diaspora to connect with their homeland. Korzeniowski is of Polish descent and his father encouraged him to explore his heritage. He hopes to take his first trip to Poland this spring to conduct field research.
"Poland was occupied and oppressed for a long time, even before the World Wars and then through the Cold War," he said. "A lot of people left and came to the United States. As Poland began to come into its own, things like the Olympics and Polish soccer gave people who were spread out throughout the world a sense of Polish identity and a path to rediscover their roots."
After graduating, his goal is to be a play-by-play college basketball broadcaster, but he is looking into minor league baseball and production jobs that could lead to this dream position.
"The Stamps Scholarship allows me to pursue what I want to pursue without any reservations," he said. "The scholarship and the network it provides allow me to go full-force into what I want to study."