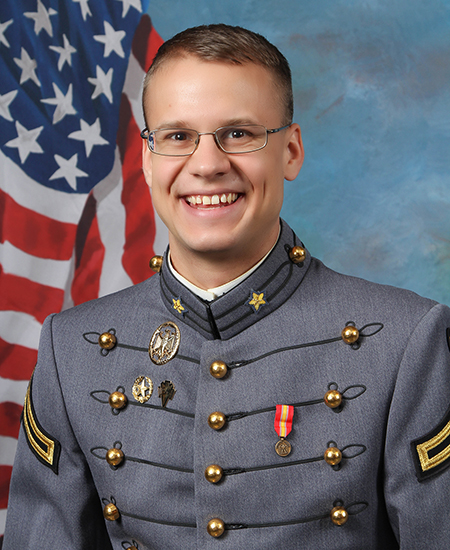 ATLANTA, GEORGIA – April 19, 2019 — Stamps Scholars Robert Norwood (United States Military Academy at West Point) is a recipient of the 2019 Harry S. Truman Scholarship, joining six Stamps Scholars who have previously received the scholarship.
Named in honor of U.S. President Harry S. Truman, the Scholarship supports graduate education for the next generation of public service leaders. Past Truman Scholars currently work in the White House, the U.S. Supreme Court, and every branch of the Armed Services as well as are influential leaders in academia, nonprofits, and research.
West Point junior Robert Norwood from Siloam Springs, Arkansas, is majoring in computer science with a Latin American regional studies minor. Norwood is the cadet in charge of the Cadet Media Group and is on the West Point Cyber Policy team. His research focuses on using concepts from cyber and information war to find innovative solutions to existing problems. He has also interned with the N.S.A., U.S. Space and Missile Defense Command, and U.S. Psychological Operations units. He is dedicated to ending sexual harassment and assault awareness at West Point and the Army. This work inspired him to pursue both the Stamps and Truman Scholarships. He uses videos as a medium to help people understand the impact of sexual assault.
"These videos are unique in that they primarily consist of current students sharing the story of what happened to them to their whole school," he said. "The approach is innovative in that it directly attempts to build empathy and use people in the video who the audience can closely identify with."
After graduation, Robert hopes to continue reducing gender inequality as an officer in the newly gender-integrated armor branch of the United States Army. He then plans to use the Truman Scholarship to complete a master's at the Harvard Kennedy School of Public Policy.
"The Stamps Scholarship has encouraged me to look beyond the opportunities that I was already presented with to seek out new ways to develop myself," he said. "I am grateful to the Stamps Scholars program for what they do to expand the horizons of students already on a path to change the world."
These Scholars join a legacy of excellence. The Truman Scholarship has previously been awarded to Stamps Scholars from West Point, the United States Air Force Academy, the University of Miami, Purdue University, and Wake Forest University. Stamps Scholar alumni also include Rhodes Scholars, Marshall Scholars, Knight-Hennessy Scholars, Churchill Scholars, Barry M. Goldwater Scholars, and Schwarzman Scholars.
About the Strive Foundation
The Strive Foundation supports scholarships to students at 40 partner universities and colleges across the country. Scholars are selected for their academic merit and leadership potential. Stamps Scholarships often cover tuition, room and board, and other expenses as well as enrichment funds used for internships, study abroad, research, and other educational and professional opportunities.
For more information, contact
Connelly Crowe
Director of Communication and Scholar Experience
connelly@stampsscholars.org