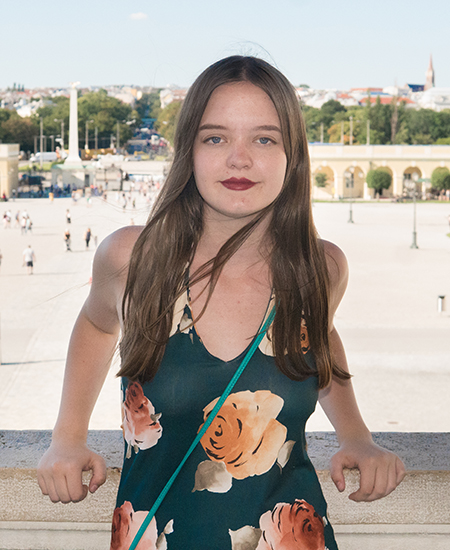 ATLANTA, Georgia — April, 2019 — Stamps Scholar Grace Marion (University of Mississippi) is a recipient of the 2019 Hugh M. Hefner First Amendment Award in the journalism category.
The Hugh M. Hefner First Amendment Award was established in 1979 to honor those who have made impactful contributions to protect and enhance First Amendment protections.
Ole Miss freshman Grace Marion from Levittown, Pennsylvania, is majoring in journalism with an emphasis in print and broadcast. She is minoring in Spanish and cinema studies. At Neshaminy High School, Marion investigated sexual misconduct records and fought censorship to publish her article in the school newspaper, where she served as editor in chief. She raised thousands of dollars to keep the newspaper running and spoke at conventions around the country about censorship issues. She and other recipients of the First Amendment Award will be honored at a reception at the Newseum in Washington D.C. and be presented a cash prize.
"This award has really made me realize that I can't just step away from these issues because I'm in college now, because the distance really shouldn't be stopping me from trying to help back home," she said. "I plan on dedicating my weekends this summer to following up on all of the loose ends of stories from high school and publishing those reports in a paper up there, and hopefully writing an accurate timeline of those events to turn into a book later on."
In addition, Marion published a collection of her writings last year entitled Treading Water and Other Collected Poems and Short Stories. At Ole Miss, she serves as the chapter president of the Society of Professional Journalists and as a news desk staff writer for the Daily Mississippian.
"The Stamps Scholars program along with other groups at my university have allowed me the opportunity to explore my interest in journalism," she said. "I can't imagine being happier in any life other than the one that Stamps has allowed me."
Marion joins a legacy of excellence. Stamps Scholars have gone on to be awarded the Truman, Rhodes, Marshall, Knight-Hennessy, Churchill, Barry M. Goldwater, and Schwarzman Scholarships.
About the Strive Foundation
The Strive Foundation supports scholarships to students at 40 partner universities and colleges across the country. Scholars are selected for their academic merit and leadership potential. Stamps Scholarships often cover tuition, room and board, and other expenses as well as enrichment funds used for internships, study abroad, research, and other educational and professional opportunities.
For more information, contact
Connelly Crowe
Director of Communication and Scholar Experience
connelly@stampsscholars.org