By Elizabeth Tammi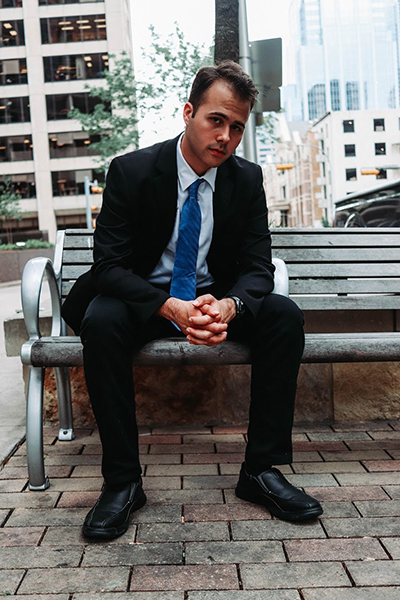 For Giancarlo Bernini, the mystery of magic first drew him in. 
He started giving magic performances to children at a cancer clinic in fifth grade and realized how magic could bring joy to those who need it. His magic evoked genuine, joyful reactions, and he was hooked. When he saw magician David Copperfield perform, Bernini began to understand how magic could be used to tell incredible, meaningful, and emotional stories. 
Along with his growing passion and pursuit of magic, Bernini initially had a different career goal in mind. He's a practicing Catholic, and considered becoming a priest for a long time. Faith is extremely important to him, so he majored in religious studies as a Stamps Scholar at the University of Texas at Austin. 
'ÄúWithin the Catholic tradition, there's this concept that the soul ultimately longs for what is True, Beautiful, and Good,'Äù he said. 'ÄúI think that also explains why I love magic. I mean, the simplest definition of a magic trick is an illusion that is presented theatrically for the purpose of entertainment. Illusions are all about discerning Truth, theater is about presenting Beauty, and entertainment is about sharing Goodness. I think that when people encounter Truth, Beauty, and Goodness, the natural response is awe, joy, and wonder, which is what you find at a magic show.'Äù¬†
Throughout his time at college, he performed magic shows for hundreds of students. He used his enrichment funds to attend the world's largest magic convention in Blackpool, England. There, he learned new tricks and illusions that have never been performed before and networked with other magicians. 
During the fall of his senior year, he spent a semester interning on the road with Maze Magic. Maze Magic is a traveling illusion show geared toward college students, but it's also a ministry. The experience allowed him to combine his love for magic with his faith. He also improved his skills on the technical side of setting up shows, as well as promoting shows on college campuses.
He said, "I knew I wanted to be a magician after graduation and I was curious about whether or not I would like the experience of being on the road a lot, and this experience helped me see that I really did enjoy touring around the country doing magic shows."
His college experience was also largely shaped by his involvement with the Stamps Scholars program. At both Scholar conventions he attended, his magic performances rocked the house during the talent shows.
He said, 'ÄúIt's awesome, because it's such a friendly crowd. It feels like you're among family.'Äù
He became something of a legend among the Stamps community, and far beyond. His college years proved that he was ready to take his magic career to the next level. After graduating in May 2019, he moved to Dallas to start his magic career full-time.
He's already accomplished a huge bucket list item in his magic career. He performed on the CW network show "Penn & Teller: Fool Us." The show invites prominent, aspiring magicians to perform for the legendary illusionist duo. The goal is to present an illusion that Penn and Teller are unable to duplicate. Bernini's episode premiered in June, and it was the culmination of years of practice and passion for the craft of magic.
'ÄúFor as long as it's been on, 'ÄòFool Us'Äô¬† has been my absolute favorite television show to watch, so being on it was an absolute dream come true,'Äù Bernini said.¬†
After emailing routine pitches to the show and waiting months for a response, he was thrilled to hear they were interested. Performing for magic legends Penn and Teller was an incredible experience and opportunity, and there was also a guest star who was very familiar to him.
David Copperfield, Bernini's favorite magician since watching him in elementary school, appeared on the very same episode. 
Now, just a few months post-graduation, his full-time career is in full swing. He performs for colleges, corporations, and churches, and hopes to continue surprising audiences.
"My next goal is to create a unique magic show experience unlike any other show where people can have their imaginations awakened and their perspectives challenged," he said. "This is hopefully something I can take around the country at some point."
Keep updated on Bernini's magic career on his website, https://www.berninimagic.com/.