ATLANTA, GEORGIA — December 10, 2019 — Stamps Scholars Shaun Kleber (University of Georgia), Gordon McCulloh (United States Air Force Academy), and Colleen O'Connor (Dartmouth College) are recipients of the Schwarzman Scholarship, joining four Stamps Scholars who have previously received the scholarship. The class of 2021 will enroll in August 2020 in a one-year master's degree at Tsinghua University in Beijing, China.
At least one Stamps Scholar has been awarded a Schwarzman Scholarship in each cohort since its inception in 2016. The program gives some of the world's best and brightest students the opportunity to develop their leadership skills. Whether in politics, business, or science, the success of future leaders around the world will depend upon an understanding of China's role in global trends.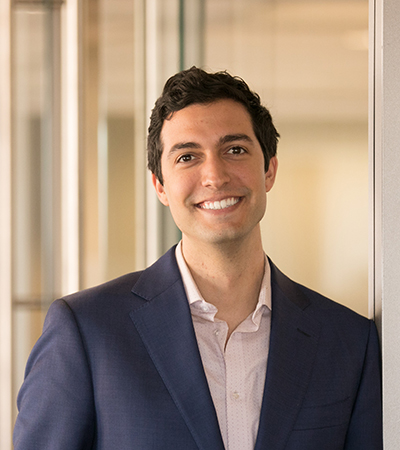 Foundation Fellow and Stamps Scholar Shaun Kleber graduated from the University of Georgia in 2016 with bachelor degrees in international affairs, political science, and economics. After graduation, he spent two years with McKinsey & Company as a business analyst before transitioning to work with City Year, an AmeriCorps program, through which he served as a student success coach in Detroit and is now a team leader in Boston. He will later study at Harvard Law School and pursue a career in education policy and public education administration. He said studying in China will afford him the opportunity to think deeply about major global and local issues in an interdisciplinary community of future leaders.
"I feel drawn to both education and policy because I see them as spaces where communities and societies shape their stories, and in turn shape individuals' realities," said Kleber. "I'm intrigued by the unique ways China builds and shares its own stories, and am conscious of the fact that those stories will increasingly shape international conversations."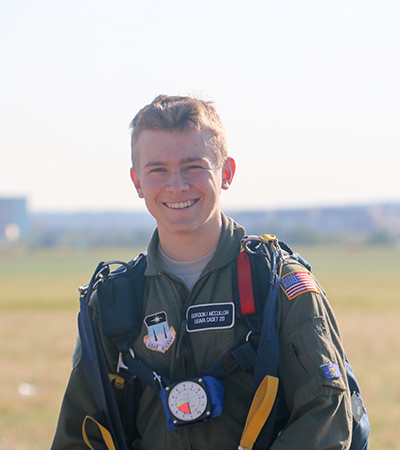 US Air Force Academy (USAFA) senior Gordon McCulloh is studying astronautical engineering and applied math with an Arabic language minor. In addition to ranking 16th in his class, McCulloh serves as the director of operations for a squadron of 105 Academy cadets. For his accomplishments, he received the 2018-2019 USAFA Cadet of the Year award. Outside of school, he studied Arabic in Morocco, interned at SpaceX and published research on hybrid rocket combustion. Through the Stamps Scholarship, he interned with Ad Astra Rocket Company and the Air Force Research Laboratory. At Tsinghua, he plans to study Chinese culture, world governments, and tech policy. He aims to apply his time in China as an Air Force engineer to inspire peaceful solutions in the space domain.
McCulloh said, "I'm awed by the talent of previous Schwarzman Scholars and excited to learn more about China and its people by living and studying at one of Beijing's premier universities."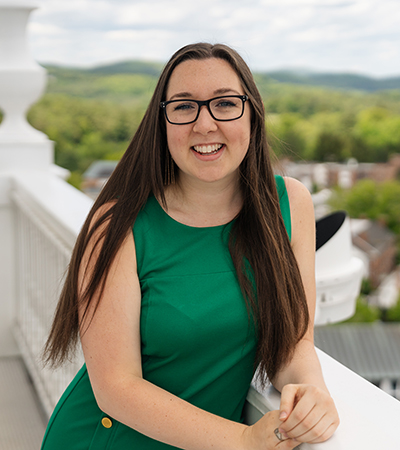 Dartmouth College Stamps alumna Colleen O'Connor recently graduated as salutatorian and class marshal, with majors in Asian and Middle Eastern studies and economics and a minor in human-centered design. On campus, she led Women in Business and the Dartmouth Entrepreneurial Network. She was named the 2018 Undergraduate Catalyst for Change by the American Association of University Women for using her passion for social entrepreneurship as a vehicle for female empowerment in South America and East Asia. She currently works in business strategy consulting at EY-Parthenon and formerly worked with start-ups and nonprofits in Japan, China, Mexico, and Peru. At Tsinghua University, she will take a range of classes in international relations and public policy to prepare herself to be a globally-oriented leader.
"Living in China will allow me to be immersed in a country that has the highest number of self-made female billionaires yet where remnants of culturally-enforced gender discrimination and male-preference still impact female entrepreneurs within the economy's informal sectors," said O'Conner. "As someone passionate about social entrepreneurship, I hope to use this opportunity to fully embrace the culture and better understand why some of these seemingly contradictory practices occur simultaneously in China."
These Scholars joins a legacy of excellence. In addition to four previous Schwarzman Scholars from the U.S. Military and Naval Academies, Stamps Scholar alumni include Rhodes Scholars, Marshall Scholars, Harry S. Truman Scholars, Churchill Scholars, and Barry M. Goldwater Scholars, among other recipients of national scholarships.
About the Strive Foundation
The Strive Foundation supports scholarships to students at 36 partner universities and colleges across the country. Scholars are selected for their academic merit and leadership potential. Stamps Scholarships often cover tuition, room and board, and other expenses as well as enrichment funds used for internships, study abroad, research, and other educational and professional opportunities.
For more information, contact
Connelly Crowe
Director of Communication and Scholar Experience
connelly@stampsscholars.org