By Elizabeth Tammi
Stamps Scholars and alumni have their sights set on the final frontier. The Stamps Scholars program partners with leading STEM universities across the country pioneering research in aeronautics, robotics, and other fields that help revolutionize and expand space exploration. Scholars and alumni use their education to contribute to the space industry's goals of improving human spaceflight, spacecraft design, and rocket engineering.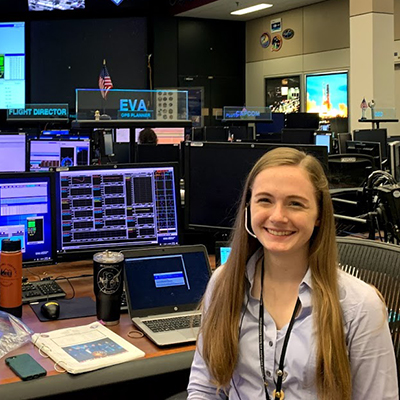 In middle school, Ohio State University Stamps Scholar Kelly De Rees knew she wanted to work for NASA. Many of her friends' parents worked at Dow Chemical Company headquarters in her hometown of Midland, Michigan. This early exposure to chemistry and its related careers drove DeRees to pursue materials science after learning about the need for engineers with a specialty in the space industry. Through the NASA Pathways Program at NASA's Johnson Space Center, she has completed several internships, including six with NASA.
DeRees has serviced robotic satellites, learned about the daily operations on the International Space Station, and analyzed materials characterization of an epoxy to determine if it could be a component of a spacesuit's life support system. She said one of the most exciting experiences was scuba diving in the Neutral Buoyancy Lab, an indoor pool housing underwater mockups of the International Space Station. After graduation, she hopes to specialize in human space flight.
"I grew up stargazing and seeing the International Space Station pass by overhead, so it's surreal to now be able to contribute to that program," said DeRees. "We've had humans in space continuously since the year 2000, which is an amazing achievement, and I just really enjoy being some small part of it."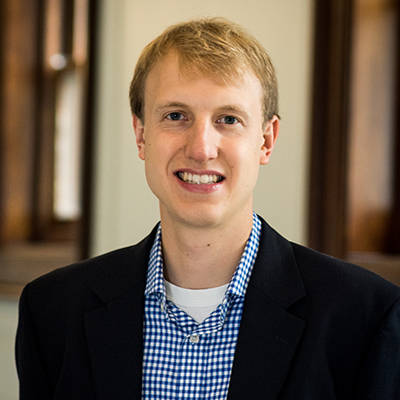 2014 Georgia Tech alumnus Parker Vascik grew up in the Shenandoah Valley of Virginia, where his family owned a vineyard. His interest in engineering was sparked by the machinery involved with wine production and upkeep. While studying aerospace engineering in college, he completed six internships as part of the Co-Op program. He said, "Every other semester I would pick up my bags and either Greyhound or drive to some far-away place to learn new skills and build something."
Vascik interned with Rolls-Royce in Indianapolis, NASA's Langley Research Center, and the Ames Research Center. Wanting to learn more about the intersection of policy, society, and technology, he pursued a Ph.D. at the Massachusetts Institute of Technology. He plans to work with a colleague in their own technical consulting firm to tackle projects on how aircraft can impact our world. He said, "All of the new technologies in our world have the potential to lead to negative ramifications, and it's my hope to help the aerospace industry create better products and services by explicitly considering these ramifications from the get-go."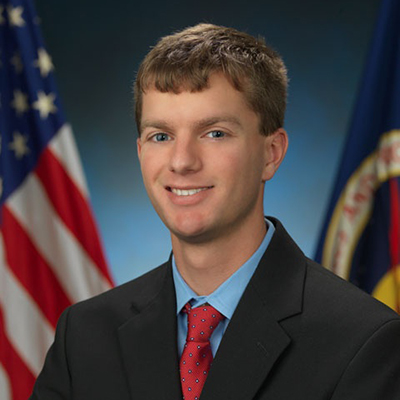 Chris Rossi, who graduated from the University of Michigan in 2010, made sure his elementary school projects focused on astronauts and the planets. Rossi grew up in the suburbs of Philadelphia, and studied aerospace engineering at the University of Michigan because of the size and prestige of their program. He worked on designs for Cubesat missions as part of the Student Space System Fabrication Lab, was involved with the Sigma Gamma Tau aerospace honor society, and traveled the country competing with the club tennis team. After, he completed a master's in aerospace engineering at the Massachusetts Institute of Technology where he was designated a Draper Lab Fellow.
Now, he works for Blue Origin as the lead on the guidance and control team for the New Shepard program. He hopes to make space launch and travel cheaper and safer. He said, "I've always been drawn to space exploration because it is the next frontier and has limitless potential for discovery. I hope that my work in space will ultimately provide benefits to people on Earth through discoveries, inspiration, and technology."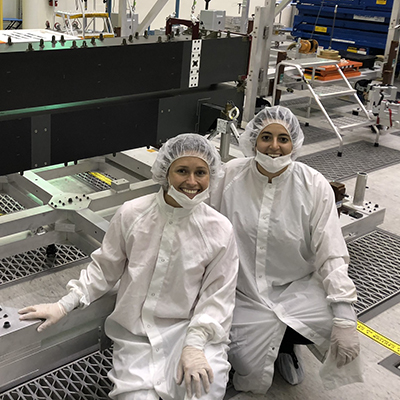 While she was only a high schooler, 2017 Georgia Tech alumna Christine Gebara interned at the NASA Johnson Space Center, which cemented her passion for air travel. Gebara worked as a mariner in a Girl Scout sailing program and was part of her high school's robotics team, which made her an ideal candidate for NASA. As an aerospace engineer at Georgia Tech, she helped build one of the school's first satellites. She took a year off to complete a co-op with NASA's Jet Propulsion Laboratory.
Since graduating, she returned to JPL as a mechanical engineer. Her primary responsibility is testing the deployment of two large antennas on the Surface Water Ocean Topography Mission. She is also helping to understand the implications of metal 3D printing on how spacecrafts are built. She worked to create a concept vehicle for what a planetary lander would look like if it were completely structurally optimized. She said, "I hope that my work in the aerospace industry will help us better understand Earth and explore the unknown. One day soon, I hope to point to a project and be able to say that it enabled groundbreaking science."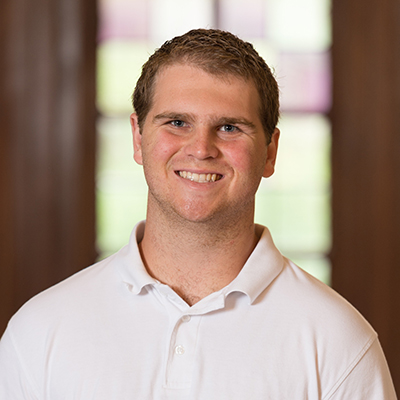 While attending the University of Michigan, Tyler Sandberg became involved with a student rocket design team and realized he wanted to pursue aerospace engineering. From there, Sandburg threw himself into his interest in rocketry and space exploration. He became the propulsion lead for Michigan's student rocket team. He said, "While classroom knowledge is important, I wouldn't have been prepared for working on industry rocket engines if not for the student team."
He landed internships with SpaceX, Blue Origin, and General Atomics. Since graduating in 2018, he has worked full time with Blue Origin on the BE-3U rocket engine. He said it's an exciting job because it involves a wide variety of tasks, including analyzing and designing parts, building and assembling these parts into an engine, and then testing those engines and analyzing the performance data to inform the next design round. He said, "The variety keeps it exciting, and I end up learning a ton."