June 17, 2020 ATLANTA, GA – Maison Clouatre (Mercer University), Michelle Graham (Mercer University), McPherson Newell (Mercer University), Bri Robertson (Louisiana State University), Hannah Scanlon (Wake Forest University), and Sarthak Shah (the Ohio State University) are recipients of the 2020 Barry Goldwater Scholarship, joining 14 Stamps Scholars who have previously received the scholarship.
Named in honor of U.S. Senator Barry Goldwater, the scholarship encourages outstanding undergraduate sophomores and juniors to pursue careers in mathematics, the natural sciences, and engineering.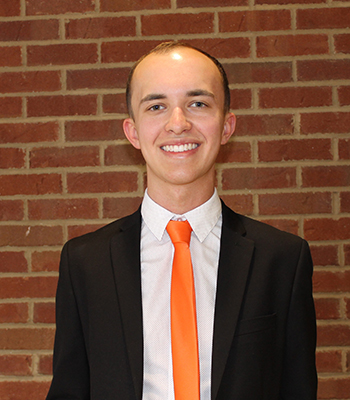 As a member of the Thitsa Laboratory, Mercer University electrical engineering major Maison Clouatre works to develop data-driven control strategies in order to make dynamic systems behave in desirable ways. His research has been leveraged to stabilize UAVs, increase the resolution of laser microscopes, and improve vehicle flow through dense city networks of traffic intersections. He has contributed to four academic journal publications and given conference presentations around the world. He has also held visiting research positions at the Georgia Tech Research Institute and in Texas A&M University's School of Aerospace Engineering. In both positions he applied control theory to aerospace applications. He will use the scholarship to further his research into data-driven modeling and control. He plans to pursue a PhD and a research career in the field of control theory.
The Stamps Scholarship is the single most pivotal investment that anyone has ever made in me," said Clouatre. "Receiving the Goldwater Scholarship was one of the most humbling moments of my life. I stand upon the shoulders of giants — my mentors, peers, and fellow Stamps Scholars. This is their award as much as it is mine."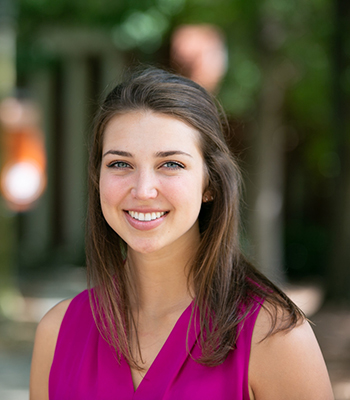 Mercer Engineering major Michelle Graham researches low-cost household energy solutions to create affordable renewable energy options for middle- and low-income homeowners. After her freshman year, she participated in a Mercer on Mission service-learning trip to Peru, where an interdisciplinary team of students and professors worked in an artisanal small-scale gold mining community. She also participated in a NSF Research Experience for Undergraduates at the University of Maine. She was immersed in a rigorous research program related to sustainable infrastructure. The Goldwater Scholarships helped her get into a competitive graduate program, connect with other researchers, and completes meaningful work within her field.
"The Stamps community has welcomed, encouraged, and inspired me," said Graham. "The mentorship I have received and the connections that I have made through this program have been invaluable in my development as a student and researcher, and will continue to impact me in graduate school, and eventually, my career."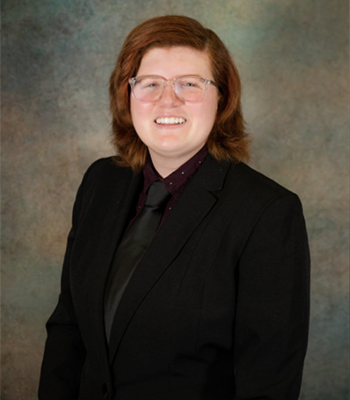 McPherson Newell, who studies biomedical engineering at Mercer University, is involved with campus advocacy groups. Newell is the president of the LGBTQ+ and ally organization Common Ground and co-chair of Rainbow Connection Committee, which helps faculty and staff make the university a safer and more affirming space for LGBTQ+ students. They are also a Disability:IN NextGen Leader. The program is for college students with disabilities who have excelled in STEM, finance, and business fields. They plan to complete a master's in disability studies and a Ph.D. in biomedical engineering and pursue a research university professorship in rehabilitation engineering.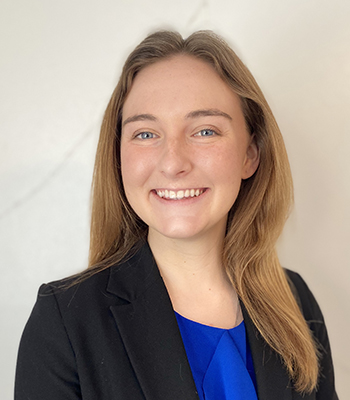 Louisiana State University computer engineering and physics major Bri Robertson has conducted research in the BioMEMs and Bioelectronics Laboratory. She was selected for an NSF International Experience for Students in Seoul, South Korea, at Seoul National University. She researched the intersection of artificial intelligence and cancer research. She realized she was passionate about artificial intelligence and interned at NASA Glenn Research Center optimizing space communication systems with artificial intelligence algorithms. Outside of her research experiences, she is a ham radio operator, holding the highest-class license.
"From the Stamps-led conferences, to the Stamps enrichment funds, I am enabled to pursue my passions and embellish what being a leader is in my field," said Robertson. "Receiving the Goldwater Scholarship, for me, confirmed that my passion for research is not misplaced. Through continuing to follow my passion for artificially smart systems, I hope to further highlight how LSU set up the environment for me to receive this scholarship and be at the forefront of my research."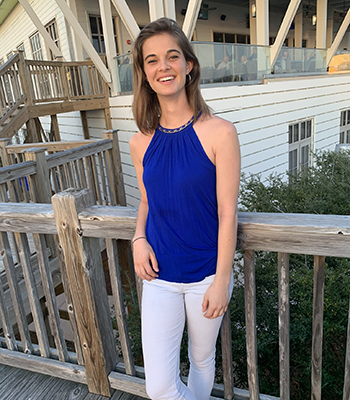 Wake Forest University junior Hannah Scanlon is majoring in applied mathematics major with a biology minor. Scanlon is a member of Pi Mu Epsilon, the mathematics honor society; president-elect of the Association of Women in Mathematics; and co-organizer of the Integrating Research in Science conference. She also performs oboe in university ensembles, plays on the women's ultimate frisbee team, and is a member of Alpha Phi Omega, a co-ed service fraternity. Last summer, she participated in an NSF Research Experience for Undergraduates. She modeled the role of blood flow and oxygenation in glaucoma. She is currently conducting research on modeling the spread of infectious diseases on adaptive networks and plans to analysis the COVID-19 pandemic. Winning the Goldwater Scholarship reaffirms her interests in pursuing a Ph.D. in applied mathematics or computational biology.
"Being a Stamps Scholar has provided me the freedom to explore my academic interests without reserve," said Scanlon. "I am intrigued by the growing field of mathematical biology and the ways in which mathematical modeling can be utilized to answer questions in biology, public health, and medicine."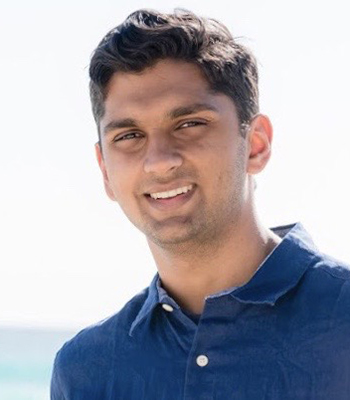 The Ohio State University junior Sarthak Shah studies neuroscience and philosophy and recently defended an undergraduate thesis on the effects of the ketogenic diet on repeated mild traumatic brain injury (TBI) outcomes. Shah also helped develop a camera mount for use on the International Space Station during Extravehicular Activity space walks that placed in the top two teams within the NASA Micro-g NExT Competition. He led the creation of SmileChild, a nonprofit aimed at reducing infant mortality with an iOS app that is currently undergoing pilot research testing. He plans to use this scholarship to present his research findings on TBI to various national conferences and working with the Nationwide Children's Hospital on optimizing app-based learning with the SmileChild App.
"The Stamps Scholarship enables me to follow my passions in multidisciplinary fields with full force," said Shah. "This scholarship has helped me on every step of my undergraduate journey, with its extensive peer network and financial support which have allowed me to pursue ambitious research ideas that would have not been possible without it."
These Scholars join a legacy of excellence. 14 previous Goldwater Scholars graduated from Georgia Tech, LSU, Mercer University, Purdue University, University of Georgia, University of Illinois, University of Maryland, United States Military Academy, and Wake Forest University.
Stamps Scholars have also gone on to be awarded the Truman, Rhodes, Marshall, Knight-Hennessy, Churchill, and Schwarzman Scholarships.
About the Stamps Scholars Program
The Stamps Scholars Program supports scholarships to students at 40 partner universities and colleges across the country. Scholars are selected for their academic merit and leadership potential. Stamps Scholarships often cover tuition, room and board, and other expenses as well as enrichment funds used for internships, study abroad, research, and other educational and professional opportunities.
For more information, contact
Connelly Crowe
Director of Communication and Scholar Experience
Stamps Scholars Programs
connelly@stampsscholars.org