University of Arizona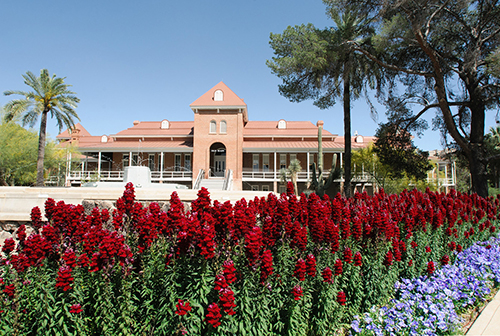 Arizona Wildcats dream, play and obsess about a better everything. For everyone. At any given moment, someone here is planning for what might be, what will be and what we hope will never be, so that our shared future is bright.
Universities are defined by their people, and you could say the people here were born to challenge "business as usual." The University of Arizona existed before Arizona was a state. Our first graduating class in 1895 consisted of two women and one male.
Since then, we've learned that we're better together. We do more when we work across backgrounds, skills and perspectives. That's how we've become long-time partners with NASA, leaders in both the arts and sciences, and able to prepare students to succeed in a world where most of the jobs today's kindergartners will have don't even exist yet. We know how to converge.
As a land-grant university with two independently accredited medical schools, the University of Arizona is one of the nation's top public universities, according to U.S. News & World Report. Established in 1885, Arizona is widely recognized as a student-centric university and has been designated as a Hispanic Serving Institution by the U.S. Department of Education. The university ranked in the top 25 in 2018 in research expenditures among all public universities, according to the National Science Foundation, and is a leading Research 1 institution with $687 million in annual research expenditures.
Application Process
In partnership with the Stamps Scholars Program, Arizona will provide five Stamps Scholarships annually to exceptional Arizona residents. The scholarship covers the full cost of attendance, including tuition, fees, room, board, books and more. Additionally, Stamps Scholars receive $16,000 in enrichment funds over four years for activities such as study abroad, internships, or undergraduate research.
A select group of students completing the University of Arizona Honors College Application early in the fall semester will be invited to apply for the Stamps Scholarship.
For more detailed information regarding the Stamps Scholarship application and award, visit http://honors.arizona.edu/stamps.