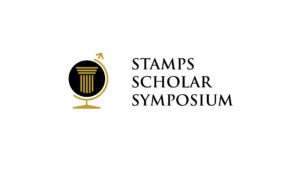 ATLANTA, GEORGIA ' March 26, 2021– Like many college students, Stamps Scholars have had to change plans for study abroad and research and adapt to remote options for learning, internships, and enrichment. The Stamps Scholar National Convention was set to take place this year, but due to the pandemic hindering travel and restricting the ability to gather, Illinois Stamps Scholars have taken the initiative to plan a virtual Stamps Symposium on April 17 and 18. The Illinois Stamps Scholars are utilizing technology to bridge the distance between one another and help Scholars connect.
The virtual Symposium will give current Scholars and Stamps alumni the opportunity to get to know each other and network both professionally and socially. About 480 Scholars are registered to attend the event, along with 80+ Stamps alumni who will serve on panels, provide mentorship, and engage with the current Scholars. Scholars are also anticipated to have the opportunity to hear from Dr. E. Roe Stamps, co-founder and benefactor of the Stamps Scholars Programs.
The theme for the 2021 Virtual Scholars Symposium is "Turning Obstacles Into Opportunities." Many Stamps Scholars have embraced this ethos as they bring their talents into their communities and lend their skill sets to helping out during the pandemic.
"Despite all the obstacles that this past year has provided, the Stamps community has continued to advance their studies and professional lives all while continuing to serve their communities," said the Stamps Scholar Symposium Planning Committee. "We have no doubt that bringing Scholars together this April will result in a chance for us all to learn from each other and bring us closer despite our physical distance." 
The event will be hosted on the platform Gatherly, a virtual meeting space technology developed, in part, by Georgia Tech Stamps President Scholar Sohan Choudhury. The platform can host up to 1000 Scholars and simulates a virtual convention space, allowing Scholars to "walk" around the virtual convention hall and bump into one another on their way to different events.
The Symposium will take place over the course of two days with three events per day. The days are set up so that half the group will go to "pods" the first day while the rest will go to "expo groups," then these groups will switch the following day. "Pods" are groups of students placed in rooms together to work on problem solving and engage in discussions on relevant topics in the fields of STEM, media, fine arts, economics, politics and voluntourism. One pod will look at whether the Covid-19 pandemic will lead to an artistic renaissance while another will focus on a data scientist's role in creating socially responsible technology.  
The "expo groups" are smaller groups of students placed into rooms with different speakers on topics or ideas for which the Scholars vote ahead of time. Some Stamps Scholars are also anticipated to speak about their passion projects, research, or interesting ways they have spent their enrichment funds. 
With support from Dr. Stamps, the Stamps Scholars Programs provide scholarship support to 939 Scholars at 37 partner institutions nationally and in the United Kingdom. Stamps Scholars are leaders both on campus and beyond graduation. There are 1412 Stamps Scholar alumni around the world who continue to serve their communities through professional work, volunteering, and leadership positions. Stamps Scholar alumni are among the recipients of prestigious awards including Rhodes, Fulbright, Goldwater, Truman, and Schwarzman scholarships.
To learn more about the Stamps Scholars Programs, visit http://www.stampsscholars.org/
Contact:
Connelly Crowe, Connelly@StampsScholars.org
Director of Communication and Scholar Experience