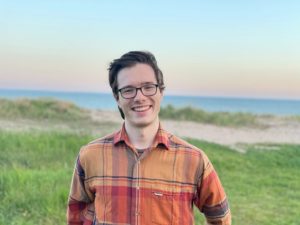 Georgia Institute of Technology Stamps Scholar alumnus Nicholas Selby was listening to a podcast about kidney donation when a thought occurred to him: Why couldn't he give this vital organ to someone in need?
Selby said, "I was on the subway on the way to get a haircut and it was a lightbulb moment."
So in September 2021, Selby, who recently completed a Ph.D. at the Massachusetts Institute of Technology, donated his left kidney to a complete stranger. Selby has long dedicated much of his free time to aiding others: He started donating blood in high school and joined the bone marrow donation registry when one of his friends was diagnosed with leukemia. Originally from Phoenix, Arizona, he graduated from Georgia Tech in 2016 with a mechanical engineering degree. At MIT, he helped organize the graduate student union and has volunteered with unhoused and sanctuary ministries as well as taught a summer science camp for kids in Mexico.
Being an engineer by training, Selby spent months reading about the possible side effects and became convinced about the power of chain donation: The National Kidney Registry helps people who need donations and have partners who are willing to donate but aren't a perfect match to get the kidneys they need. This means that a partner of Selby's kidney recipient will donate their organ to someone else, who will have a partner willing to donate to someone else, and so on. Selby's kidney traveled to Florida, where it has about a 95% rate of helping its new host.
Selby said, "Instead of recipients getting 'okay' matches from a friend or family member, all recipients get the best match for them from the tens of thousands of people in the nationwide registry, enabling longer, better lives."
Now recovered from his surgery, Selby is excited to explore his professional opportunities post graduation, especially entrepreneurship. But first, he's planning on taking some time to rest and enjoy a vacation. For those potentially interested in donating a kidney, he suggests listening to the same podcast that inspired him.
He said, "Donating a kidney sounds like a lot, but it's a safe procedure with minimal impact on your long-term health. It's the best decision I've made."