Dec. 16, 2021
ATLANTA – Stamps Scholars Allyson Burba (U.S. Air Force Academy), Evan Robertson (U.S. Naval Academy,) and Tommy Hall (U.S. Military Academy) are recipients of the 2022 Marshall Scholarships, joining nine Stamps Scholars who have previously received the scholarships.
The Marshall Scholarship is an international, postgraduate award for students across academic and professional interests to study at any British university. The award was created in honor of U.S. Secretary of State George C. Marshall and is considered one of the country's most prestigious scholarships.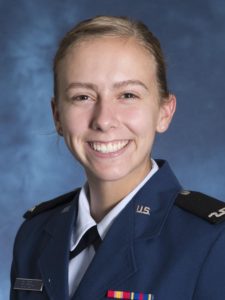 Allyson Burba was competitively selected as squadron commander at the U.S. Air Force Academy in the fall and will be the wing director of operations in the spring. Burba is a 4-way competitor on the U.S. Air Force's parachute team, the Wings of Blue, and an instructor for its basic parachuting program. She is an electrical and computer engineering major and is pursuing a minor in philosophy. She plans to spend her first year with the Marshall Scholarship studying gender, peace, and security at London School of Economics and Political Science. In her second year, she intends to study robotics at Heriot-Watt University. Long term, she will continue to lead and serve as a pilot and officer in the U.S. Air Force. She hopes to leverage her degrees to help the U.S. Air Force better use its indispensable human capital and technology to defend the nation, which she believes can only be done when technology is properly integrated and barriers to women serving in the military are removed.
"The Stamps Scholarship was the first step on this incredible journey of discovering my passion in life," said Allyson Burba. "I began my Stamps Scholarship with the proposal of studying why so few women were involved in STEM fields, especially computer science and engineering."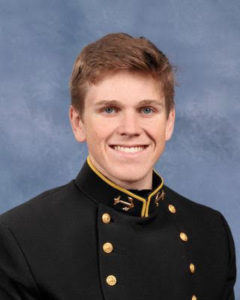 At the U.S. Naval Academy, Evan Robertson majors in aerospace engineering and physics. Robertson is also a varsity rower on the Navy Heavyweight Crew team. He conducts research with NASA in autonomous satellite robotics and space system design, working as the lead control engineer on the Repair Satellite project (RSAT), which will launch to the International Space Station in 2022. With the Marshall Scholarship, he will pursue a Master of Science in advanced mechanical engineering with aerospace at the University of Strathclyde in Glasgow, Scotland. Following completion of his degree, he will report to Pensacola, Florida to begin his training as a Navy pilot.
"The Stamps Scholars Program allowed me to connect and interact with an incredible community of students from around the country," said Evan Robertson. "I have made lifelong connections and friendships with people that I never would have met without the scholarship."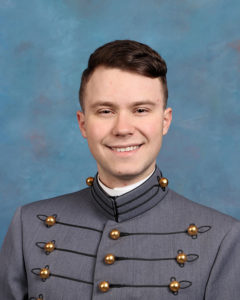 Tommy Hall studies Mandarin at the U.S. Military Academy. As a Stamps Scholar, his research applied multidisciplinary approaches to understanding major China-related issues. This led Hall to establish the West Point Human Rights Lab, a team comprised of 10 cadets that are currently working with experts at government agencies and across academia to produce a series of research papers about genocide and crimes against humanity endured by the Uyghur people in Xinjiang. He has held leadership positions in the policy debate team, the TRUST program, and the Writing Fellows program. His cybersecurity academic papers have twice been printed in The Cyber Defense Review, and he has presented research at three domestic and international panels. Tommy hopes to commission in the U.S. Army's Quartermaster branch, which provides general support to soldiers, their units, and systems across the entire spectrum of conflict. He also plans to continue his studies on identity, mass atrocities, and displacement at the University of Cambridge.
"The Stamps Scholarship not only empowered me to apply extra rigor to my China studies as an undergraduate student at the U.S. Military Academy, but it also opened doors that would have been impossible," said Hall. "These include attending academic conferences and traveling to D.C. to conduct research and to share my findings with experts in government agencies and partners. Without this scholarship, I am certain my leadership development would be incomplete."
These Scholars join a legacy of excellence. In addition to the nine previous Marshall Scholarship recipients from partner institutions across the country, Stamps Scholarship alumni include Rhodes Scholars, Marshall Scholars, Harry S. Truman Scholars, Churchill Scholars, and Barry M. Goldwater Scholars, among others.
About the Stamps Scholars Program
The Stamps Scholars Program supports scholarships to students at 40 partner universities and colleges across the country. Scholars are selected for their academic merit and leadership potential. Stamps Scholarships often cover tuition, room and board, and other expenses as well as enrichment funds used for internships, study abroad, research, and other educational and professional opportunities.
For more information, contact
Connelly Crowe
Director of Communication and Scholar Experience
connelly@stampsscholars.org