Many Stamps Scholars and alumni find innovative solutions to pressing environmental concerns through policy, research, and communications. They include lawyers using the legal system to fortify environmental protections and scientists and inventors designing technology to renewably power our world. Here's a look into how some of these Scholars leverage their education to help build a more sustainable future.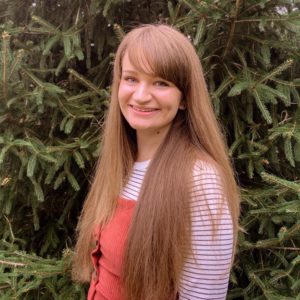 Shaye DiPasquale, Elizabethtown College
Shaye DiPasquale ('19), who studied mass communications at Elizabethtown, has always loved the art of storytelling. However, she never imagined she would be able to find a communications role in the sustainability industry. DiPasquale grew up in an eco-conscious household, learning the importance of recycling, reusable products, and compost.
She's grateful to start her career working as a publicist on the North American Public Relations team at TerraCycle, an international recycling leader on a mission to eliminate the idea of waste. Leading companies in industries such as apparel, beauty, and consumer packaged goods collaborate with TerraCycle to create national recycling programs for typically non-recyclable items. DiPasquale works with media outlets to help tell TerraCycle's story and garner attention for the various recycling programs in both the U.S. and Canada markets.
"I was stunned when I first learned the true severity of the damage that things like plastic pollution and carbon emissions have inflicted on the environment," said DiPasquale.  "With the right resources and effective, tangible action from governments and large corporations, we still have time to address the climate crisis and rewrite the script for a better world."
Learn more about DiPasquale's work here and connect with her on Linkedin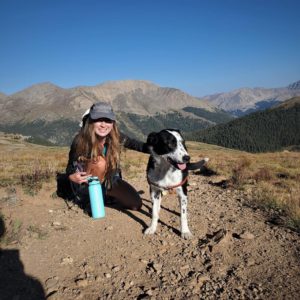 Grace Brosofsky, Georgia Institute of Technology
Georgia Tech graduate Grace Brosofsky ('17) has long been passionate about spreading awareness and coming up with solutions to environmental issues. In high school, Brosofsky conducted an internationally recognized experiment on natural alternatives to the environmentally harmful chemical herbicide glyphosate. Her future work on herbicide was supported by the Stamps Scholarship. During college, she worked with Engineers for a Sustainable World to help Atlanta urban gardeners and GT Landscape Services implement organic weed control practices.
At Cornell Law School, she led the Environmental Law Society and coordinated activist efforts such as letter-writing campaigns to shut down a local power plant running on fracked gas. She also interned at Earthjustice, helping with a lawsuit that stopped the federal government from removing endangered species protections for grizzly bears in the Greater Yellowstone region. After graduating, she became involved in the Our Drowning Voices campaign, an effort to get the International Union for Conservation of Nature to take climate change seriously and establish a Climate Change Commission. She also wrote comment letters on changes in government regulations that harm the environment.
Brosofsky said, "While my full-time job is being a public defender, I make spreading awareness of environmental issues part of my career by serving as a part-time environmental studies professor at the University of North Georgia."
Connect with Brosofsky on Linkedin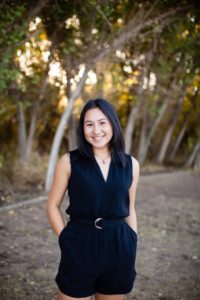 Christina Pirrotta, University of Chicago
Christina Pirrotta ('22) was first drawn to batteries for their potential to increase the spread and adoption of green energy sources like wind and solar power. Batteries can store these renewable sources and release them depending on demand, with applications across a range of fields. Now majoring in molecular engineering and minoring in computer science, Pirrotta is working on the forefront of batteries for more sustainable vehicles.
Thanks to her Stamps enrichment fund, Christina has devoted two academic years and one summer term to exploring the design of immiscible electrolytes for lithium-based batteries. She works for the Amanchukwu Lab as an undergraduate researcher and is encouraged by how much progress has been made in her lab and the field as a whole. After graduation, she will join Tesla as a cell engineer. She will help improve cell performance in electric vehicles and energy products.
"I think there is so much potential (pun intended!) for how we can improve individual battery performance as well as how to sustainably reuse current battery materials," said Pirrotta. "Batteries are incredibly important for storing renewable energy and I'm grateful to Stamps for the opportunity to learn about and work toward making a contribution to this fast-growing field."
Connect with Pirrotta on Linkedin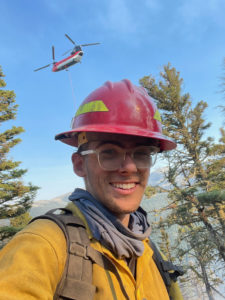 Kyle Trefny, University of Oregon
Kyle Trefny ('24) defines himself as a firefighter, artist, and student leader. Last summer Trefny used his Stamps enrichment funding to take an internship with the Eugene, OR-based nonprofit Firefighters United for Safety, Ethics, and Ecology.
He now works on their staff to transform mainstream views and policies on wildfire from a disaster that needs to be fought at all costs to an element with a vital ecological role that must be managed in just and safe ways. Such a shift is called for by modern fire science, as well as Indigenous knowledge proven over millennia by tribes across the continent and world. At the University of Oregon, Trefny is an economics major also learning Chinese. In the long term, hopes to work on world systems that respect prosperity for cultures, communities, all species of life, and the climate.
"My dream since I was 8 was to help protect snow leopards, and through childhood I did everything I could to achieve that," said Trefny. "But I came to understand that if we don't change our exploitative relationship with our home, Earth, no species here will be safe."
Learn more about Trefny's work here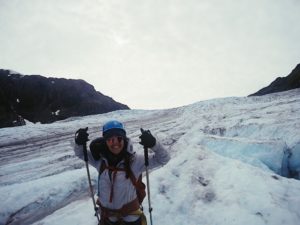 Sarah Templeton, Wake Forest University
Entering college, Sarah Templeton ('21) knew she had a strong interest in science and a love for the outdoors. However, it did not occur to Templeton that she could actually major in something she was passionate about, as her university did not offer a degree in environmental science at the time. With the encouragement of her school's Scholars Program, she built her own interdisciplinary major in this subject. During her time at Wake Forest, she served as an Office of Sustainability intern, leading a team of representatives from Greek organizations in developing and performing sustainable behavior change campaigns.
She also held roles as the science policy intern for the State of Delaware's Department of Natural Resources and Environmental Control and as the state policy intern for Ceres, Inc., a nonprofit leading influential investors and companies in tackling sustainability challenges.
She used her Stamps enrichment funds to undertake a research project on the impacts of climate change to coastal communities in south-central Alaska and coastal North Carolina. She currently works as the program manager for the Energy Communities Alliance, the only nonprofit organization of local government officials from communities hosting or adjacent to Department of Energy nuclear facilities.
"I now hope to use my formal education and lifelong dedication to the environment in a career in environmental law," said Templeton.
Connect with Templeton on Linkedin