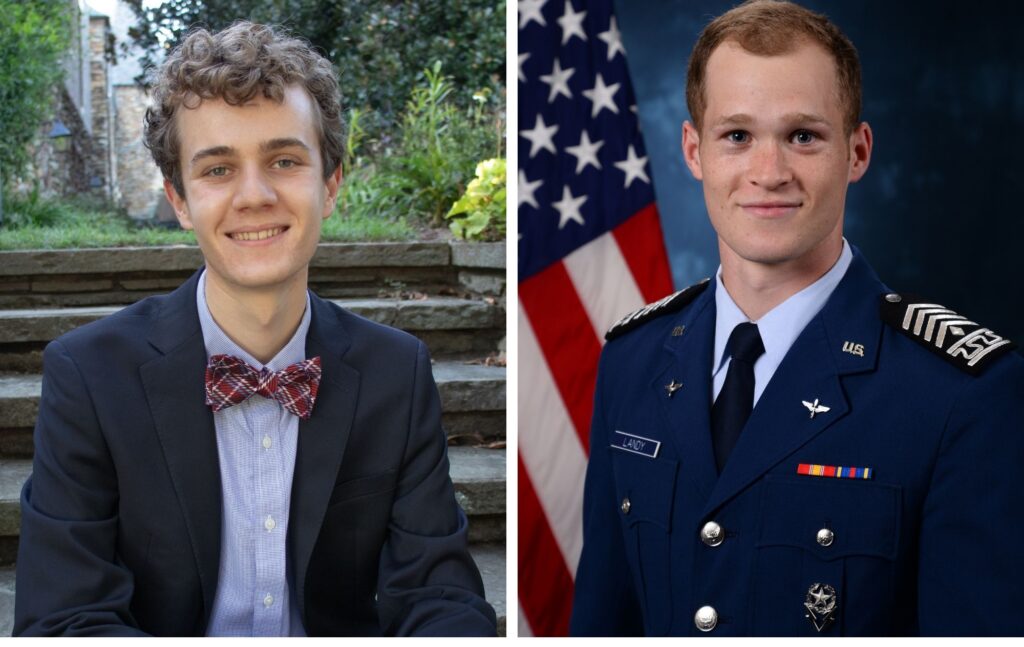 May 4, 2022
ATLANTA – Stamps Scholars Tal Feldman (Wake Forest University) and James Landy (United States Air Force Academy) have won 2022 Harry S. Truman Scholarships, joining eight Stamps Scholars who have previously secured the scholarship.
Named in honor of U.S. President Harry S. Truman, the scholarship supports graduate education for the next generation of public service leaders. Past Truman Scholars currently work in the White House, the U.S. Supreme Court, and every branch of the Armed Services and are influential leaders in academia, nonprofits, and research.
From Fort Worth, Texas, Tal Feldman double majors in economics and mathematics at Wake Forest University. Feldman is interested in using data science and artificial intelligence (AI) within the U.S. government. As an intern last year, he built AI models for the U.S. Department of State, after which he was promoted to manage a team of interns on the same project. Recently, he worked at the Federal Reserve Board of Governors, where he created cutting-edge AI for monitoring and ensuring international financial stability. He has published and presented research on using AI for foreign policy and making AI fairer. At Wake Forest, he served as president of Hillel and co-founded the Collegiate Association for Inequality Research, an organization that mentors undergraduates in research on inequality and disseminates this research via international conferences. This year, while studying abroad at the London School of Economics, he continued his work for the Federal Reserve and has given several presentations on the applications of AI at the U.S. Embassy in London. He hopes to use his skills in AI and data science to bring emerging technologies to the government so it can better serve its citizens.
"The Stamps Scholarship has opened so many doors and made my college experience rich with meaningful experiences," he said. "The Stamps Scholarship allowed me to attend Wake Forest University and pursue a variety of opportunities without financial concerns, and it is this unwavering support that allowed me to win the Truman Scholarship."
Connect with Tal on Linkedin
At the U.S. Air Force Academy, Jamie Landy (from Washington DC) double majors in political science and Latin American studies, with a minor in Spanish. Outside of classes, Landy researches China-Latin America relations and has published two publications on Chinese medical diplomacy to the region over the course of the pandemic. He also competes on the Air Force Academy triathlon team and enjoys distance running, even starting a run-a-thon fundraiser to raise money for development challenges in Latin America. With the Truman Scholarship, he intends to study economics and international development before he serves as an officer in the U.S. Air Force. He would like to eventually become a Foreign Area Officer that works in U.S. embassies across the world to foster cooperation between the U.S. and partner countries. Specifically, he would like to help the Air Force align its interests with the development interests of the localities where it operates.
He said, "The Stamps Scholarship has enabled me to pursue a much deeper understanding of Latin America than would have been possible otherwise by funding my field research and cultural immersion opportunities in the region, experiences that I will call on throughout my career in the Air Force and beyond."
Connect with Jamie on Linkedin
These Scholars join a legacy of excellence. The Truman Scholarship has previously been awarded to Stamps Scholars from United States Military Academy, the United States Air Force Academy, the University of Miami, Purdue University, and Wake Forest University. Stamps Scholar alumni also include Rhodes Scholars, Marshall Scholars, Knight-Hennessy Scholars, Churchill Scholars, Barry M. Goldwater Scholars, and Schwarzman Scholars.
About the Stamps Scholars Program
The Stamps Scholars Program was founded by E. Roe Stamps and his late wife Penny in 2006, with the purpose of enabling extraordinary educational experiences for extraordinary students. Through partnerships with institutions across the nation (and into the U.K.), Scholars receive annual awards that range from $5,400 to $75,000 (four-year awards total an average of $21,600-$300,000) with additional funds for enrichment activities such as study abroad, academic conferences, and leadership training. The Stamps Scholars Program and partner schools evenly share the costs of the award.
For more information, contact:
Connelly Crowe
Director of Communications and Scholar Experience
connelly@stampsscholars.org