Whether for business or pleasure, it is not uncommon for Stamps Scholars and alumni to spend their summers traveling across the globe; this summer, some were able to connect in person at their various destinations. From conferences to music festivals to international enrichment experiences, here are some of the intentional and serendipitous connections made over the past few months.
Seiler Rivers (Mercer University '24) and Delanie Vinzant (University of Missouri, '22)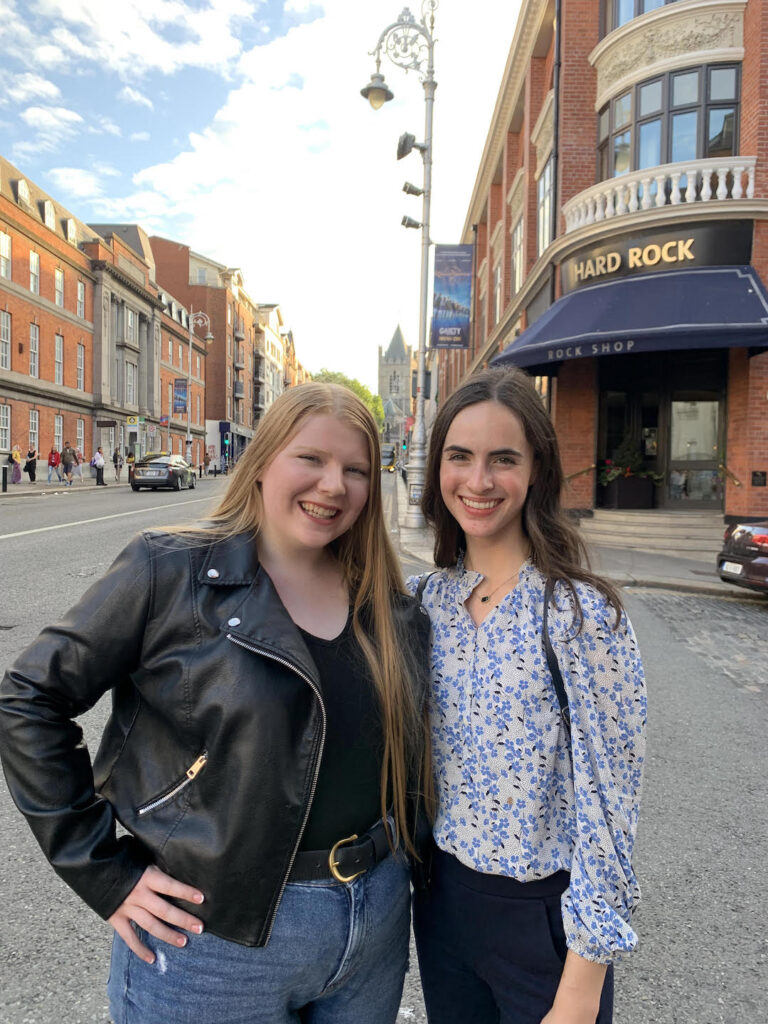 Seiler Rivers, a junior studying computer science and music at Mercer University, used her Stamps enrichment funds to travel to Dublin, Ireland this summer, for EuroPython – the longest-running Python programming conference in the world. Over the course of the five-day event, she participated in workshops where she coded her own website and created a talking bird using a microchip. While in Dublin, she dropped her pin on the Stamps Scholars map and met up with University of Missouri alum Delanie Vinzant. Rivers, who had never met with a Scholar or alum from another partner school because of the pandemic, said, "We bonded over our interview process, the size of our respective programs, and the camaraderie shared between cohorts. I really enjoyed learning about Delanie's future plans as a health professional in the nonprofit world."
Vinzant, who just graduated with degrees in biological sciences and economics, was in Dublin for an internship program through IES Abroad. She worked at Spirasi, the National Centre for Survivors of Torture in Ireland. For Vinzant, it was the first time since the Stamps Convention her freshman year that she was able to talk in person with another Scholar about their school and their Stamps experience. She said, "Even though we are studying very different topics at very different schools, we found we had so much in common."
Evgeny Yudin (Barry University, '26) and Andrea Gajic (Purdue University, '26)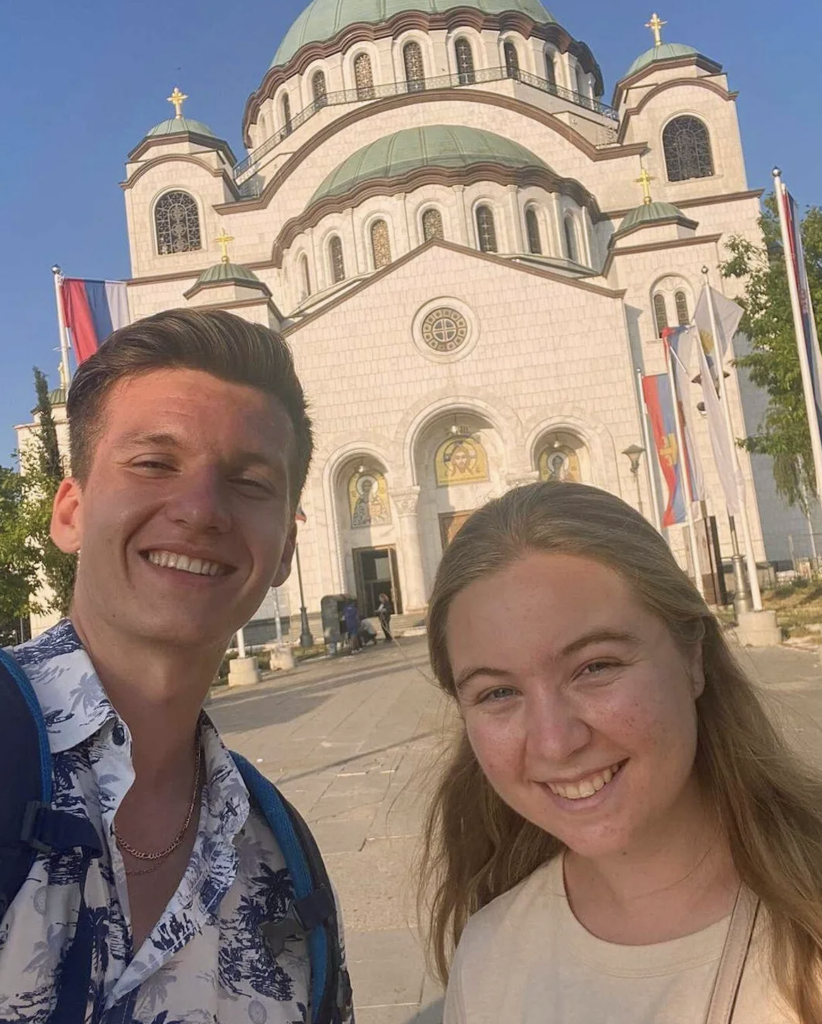 Incoming Barry Stamps Scholar Evgeny Yudin, who is from Moscow, Russia, utilized the Summer Plans Map on the Stamps Connect site to find and meet up with fellow incoming Scholar Andrea Gajic (Purdue University) in Belgrade, Serbia. Yudin, who was traveling to Belgrade for a visa appointment, was pleasantly surprised to learn that Gajic spends every summer in the Eastern European country.
Yudin said, "Andrea gave me a wonderful excursion around Belgrade and we had a great time sharing our stories and backgrounds with each other. It was my first ever in-person meeting with another Stamps Scholar and it gave me a strong sense of being a part of our diverse and astonishing community that I am sincerely proud of!" For her part, Gajic was excited to share some historically and culturally significant places in the city and walk along the new Belgrade Waterfront.
Yudin is currently studying International Business at Barry and Gajic is studying cybersecurity at Purdue.
Peter Eckland (University of Michigan, '20) and Marissa Takaki (University of Miami, '19)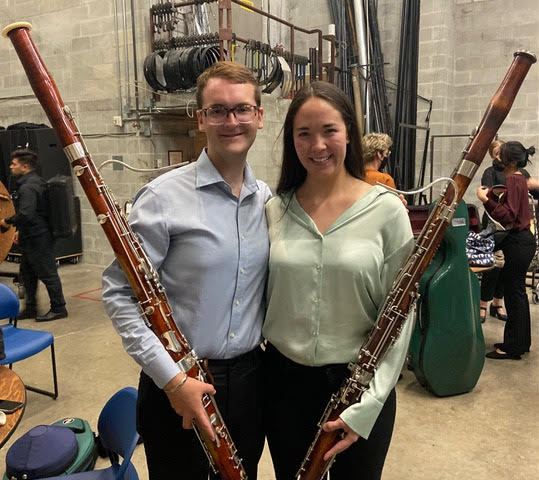 Peter Eckland, who graduated from the University of Miami in 2020 with a degree in bassoon performance, was attending the Sarasota Music Festival this June when he realized he was in the company of fellow Stamps alum Marissa Takaki. Takaki graduated from the University of Miami Frost School of Music in 2019 with a degree in the same instrument. At the festival, the two alumni performed chamber music, played in chamber orchestras, and received classes and mentorship from some of the biggest names in classical music. "It was so great to finally get to perform Mendelssohn's 4th symphony with Marissa after years of seeing each other at Stamps conferences," said Eckland. "It was very special to get to work with another Stamps Scholar thriving in the music industry."
The chamber music festival takes place in Sarasota, Florida every summer and attracts some of the finest young artists in classical music. Eckland said the highlight of his summer was performing Mozart's 24th piano concerto with Robert Levin, one of the world's most respected Mozart scholars and performers. Eckland said, "As young classical musicians, we spend a lot of time during the school year honing our craft, and summer performance opportunities like Sarasota are an indispensable part of our education. The artistry that everyone brought to that concert was electrifying. It was truly one of those moments that reaffirmed why I love to perform."
Eckland is currently completing his masters in Bassoon performance at The Eastman School of Music and freelancing in upstate New York. Takaki earned her masters in Bassoon performance from Northeastern University in 2021 and currently performs in the Arkansas Symphony Orchestra.
Alex Berry (Georgia Tech, '17) and Sofia Blasini (Georgia Tech, '18)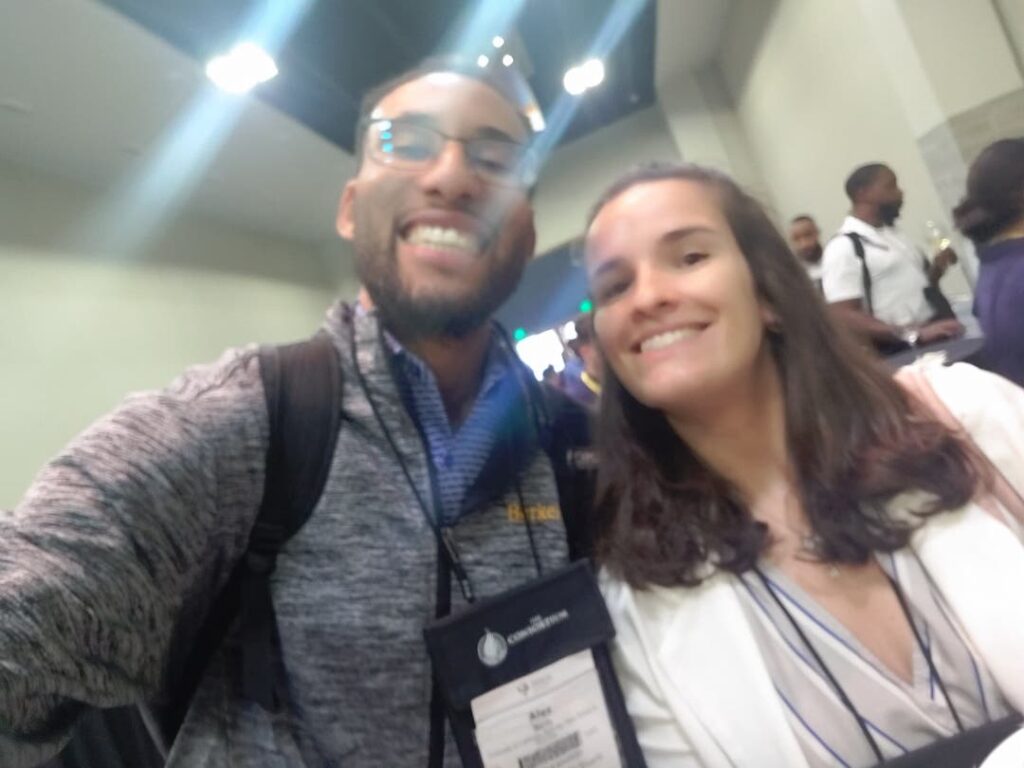 Alex Berry (Georgia Tech, '17) and Sofia Blasini (Georgia Tech, '18) both attended the Consortium Orientation Program in Denver, Colorado. This organization supports underrepresented minorities attending top business schools in their paths to becoming business leaders. Berry, who studied industrial and systems engineering (the same major as Roe Stamps!) enjoys seeing how his fellow Scholars have grown up: "I think it's always great when transitioning to a new phase in life to feel like you have not just a network, but friends to go through that journey with — and that's what I think of when I think of the Stamps Scholarship." Blasini, who also studied industrial and systems engineering, attended to meet students in her class at Columbia Business School and other partner schools as well as to network with corporate partners. She said, "I love how, no matter where we are in the world, Stamps Scholars will somehow find each other and support each other to achieve our goals."