ATLANTA, GEORGIA — November 2022 — Stamps Scholars Alice Hauser (Wake Forest University), Ben Kwong (U.S. Naval Academy), Jamie Landy (U.S. Air Force Academy), Natalie Navarrete (University of Georgia), and Kai Youngren (U.S. Military Academy) have won Rhodes Scholarships for 2023, joining 14 Stamps Scholars who previously received the scholarship.
This is the most Stamps Scholars who have ever received the scholarship in one year. The Rhodes Scholarship is an international, postgraduate award for students across disciplines to study at the University of Oxford. It is considered one of the world's most prestigious graduate scholarships.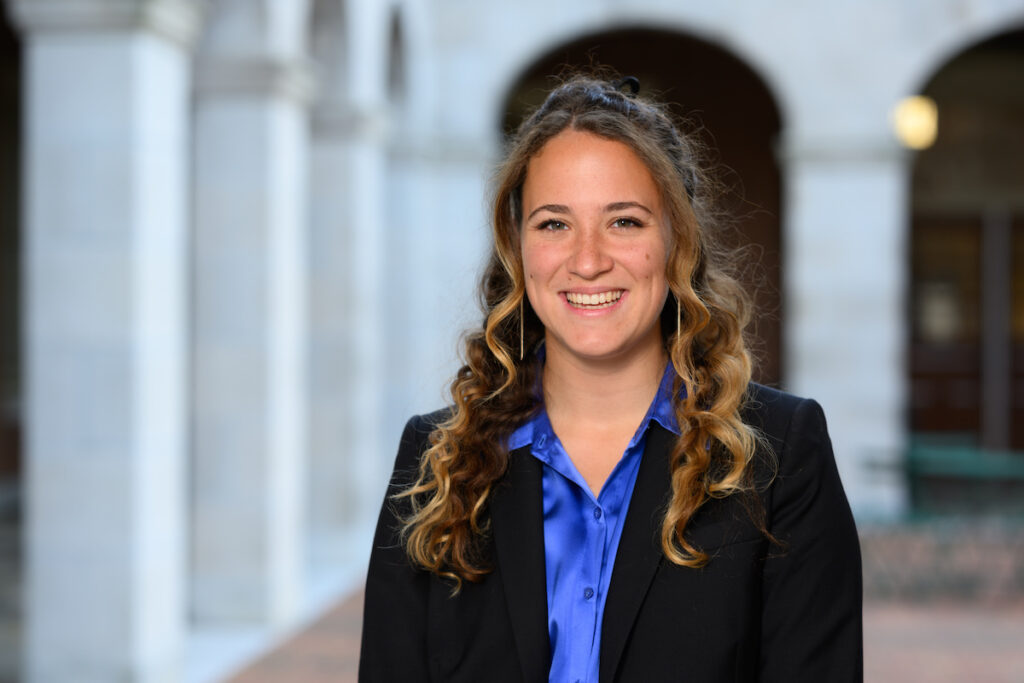 Alice Nell Chandran Hauser, from Kennebunk, Maine, studies philosophy and piano performance at Wake Forest University and is minoring in history. As a tutor and executive board member of Wake Forest's Student Association for the Advancement of Refugees, Hauser has worked to help those who have crossed international borders find safety in the Winston-Salem community. She received a Richter Scholarship for independent research and traveled to Germany, Austria, and Switzerland during the summer of her junior year to study the works of composer and pianist Johannes Brahms. She also received the Christian Cappelluti Memorial Scholarship, awarded for outstanding musical merit and promise, and the David W. Hadley Prize for Historical Writing. She is the captain of the Wake Forest University Ultimate Frisbee Team. Her interests outside of the classroom have focused on law, including internships at Lawyers Without Borders, the Forsyth County Family Justice Center, and other legal organizations. Additionally, the Stamps Scholarship funded an unpaid internship with the Major Crimes Division of the U.S. Attorney's Office in Washington D.C. At Oxford, she plans to pursue a master of science in refugee and forced migration studies and a master of philosophy in law, with the ultimate goal of promoting justice for populations in need.
"I am grateful to the Stamps Scholarship for funding my undergraduate education at an outstanding university, giving me the freedom to explore the courses of study that are most meaningful to me, and allowing me to spend my summers pursuing my passions and advancing my understanding of the legal system in the United States," she said. "Being the recipient of such generosity has inspired me to spend my life improving the lives of others."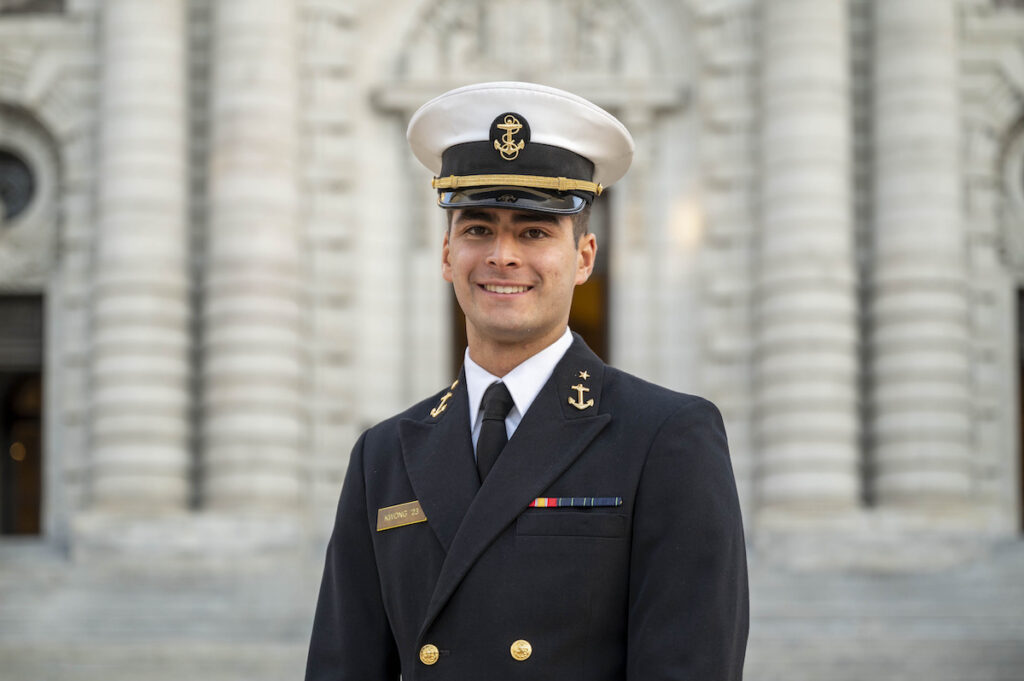 Midshipman 1/C Benjamin "Ben" Kwong from Newport Beach, California, investigates cyber operations at the U.S. Naval Academy, where he will earn a bachelor of science in 2023. Kwong is passionate about sustainable energy policy in his military and academic work and intends to research ways in which a transition to renewable energy might bolster national security. Using Stamps funding, he spent last summer at the Cambridge Security Initiative analyzing how China's reliance on fossil fuels may increase the risk of conflict in the South China Sea. He also studied at Reykjavik University in Iceland, where his capstone project proposed retrofitting abandoned oil wells in Texas to create geothermal energy systems at one-tenth the cost of the drilling process. Through the Rhodes Scholarship, he will pursue a master of science in sustainability, enterprise, and the environment at Oxford.
"The Stamps Scholarship has had a profound impact on my undergraduate career in that it put me in a position where I could make any academic goal of mine come to fruition," he said. "In the future, I hope to lead a rich career as a naval aviator and play an instrumental role in transitioning the U.S. Navy to renewable energy."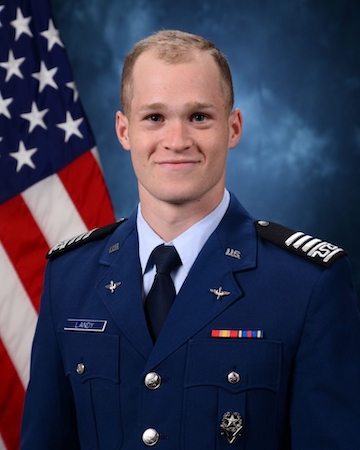 At the U.S. Air Force Academy, Jamie Landy, from Washington DC, double majors in political science and Latin American studies, minoring in Spanish. Thanks to the Stamps Scholarship, he has been able to travel to Latin America to conduct field research on China-Latin America relations, take a course at the University of Oxford, and present his research at numerous professional-level conferences, including the American Political Science Association and the International Studies Association. His favorite experience provided by Stamps enrichment funds was visiting the Panama Canal and engaging with various private-sector entities that work in conjunction with the canal. Another significant experience was being able to engage in the UK's tutor-style education system at the University of Oxford this past summer. Next fall, he intends to begin a master of philosophy in international relations at the University of Oxford through the Rhodes Scholarship. After completing his studies at Oxford, he will serve as an intelligence officer in the U.S. Air Force.
"The Stamps enrichment fund has enabled my undergraduate career to be packed with immersive learning experiences that complemented my classroom curriculum and research," he said. "I am so grateful to the Stamps Scholarship for its generosity, and the community that it has provided me with."
Natalie Navarrete studies international affairs, Spanish, and Russian at the University of Georgia. Navarrete is currently finishing the capstone year of the Russian Flagship Program at Al-Farabi Kazakh National University in Almaty, Kazakhstan, where she is also researching Kazakh 20th-century literature and interning at a children's literature publishing house. During her undergraduate studies, she has been able to take advantage of many opportunities to explore her interests in international security and Russian thanks to the Stamps Scholarship. She interned at the Department of Energy's Office of Nuclear Smuggling Detection and Deterrence as well as the Office of Congressman Ted Deutch in the summer of 2021. She also studied Russian and Spanish literature at Oxford and political philosophy in Cortona, Italy. She has participated in intensive Russian programs at the University of Georgia, Middlebury Language School, the University of Hawaii in collaboration with the Baltic Center for Education and Academic Development, and Al-Farabi Kazakh National University.
She said, "The Stamps Scholars Program gave me the flexibility to adapt to the challenges that the pandemic posed by supporting me as I tried to find new ways to study and immerse myself in foreign languages."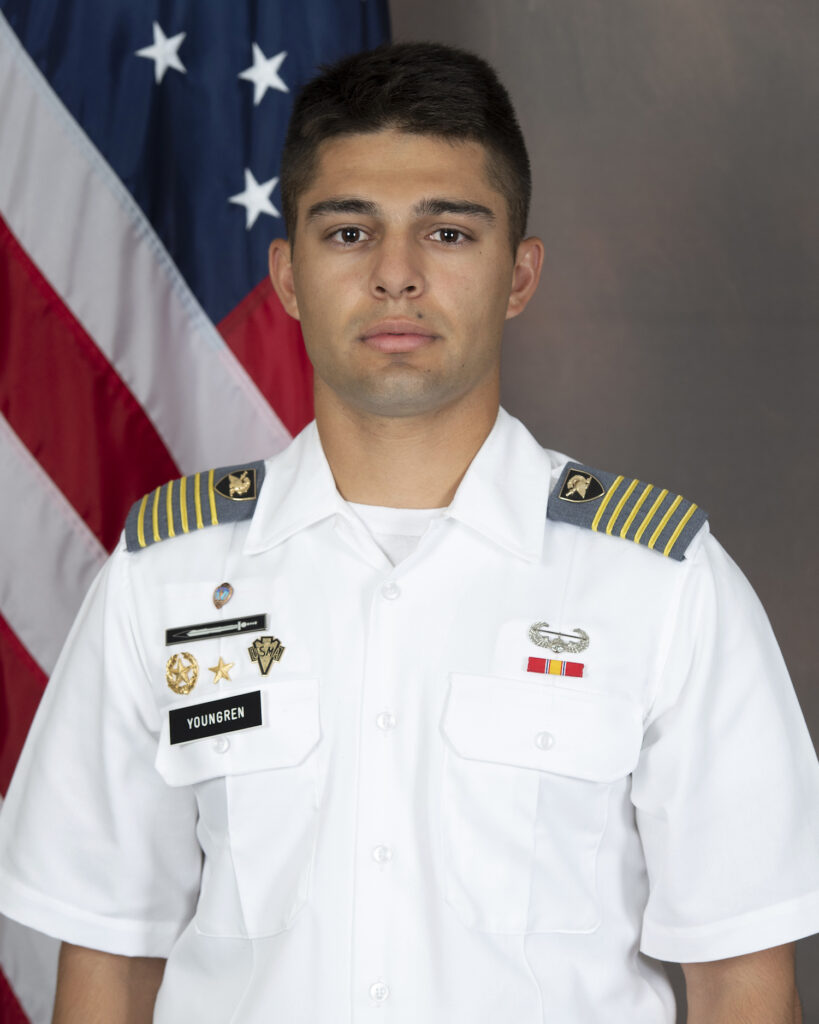 Born in Florham Park, New Jersey, Kai Youngren is a law and legal studies major and a terrorism studies minor at West Point. Youngren was inspired to serve his country due to the death of his grandfather during the September 11 attacks on the World Trade Center. He won the Stamps Scholarship in 2020 and was awarded a fellowship with the Center for Congressional and Presidential Studies in 2022. He is the cadet-in-charge of the Terrorism Studies Minor, the vice president of the National Honors Society, and a senior fellow in the Mounger Writing Center. Currently, he serves as the deputy brigade commander of the Corps of Cadets. In 2021, he used his Stamps Scholar grant to fund a national survey to examine the different dynamics affecting executive power and foreign policy. The grant also allowed him to travel to three conferences to present his research on the American Vice-Presidency. After West Point, he intends to commission as an infantry and will pursue a career in Special Forces. As a Rhodes Scholar, he will earn an master of philosophy in development studies. His goal is to shape the military's strategy in conflict resolution and investigate how the military and international institutions generate post-conflict stability.
"The Stamps Scholars Program has been integral to my ability to conduct my research, collaborate with students from different universities, and travel to present my findings to the broader academic community," he said. "The program has not only been an important vehicle of research but has allowed me to build connections across the United States with students and professionals."
These Scholars join a legacy of excellence. The Rhodes Scholarship has previously been awarded to Stamps Scholars from the Georgia Institute of Technology, Harvard Business School, the University of Miami, the University of Michigan, the University of Virginia, the U.S. Air Force Academy, the U.S. Military Academy, the U.S. Naval Academy, and Washington University in St. Louis. Stamps Scholar alumni also include Marshall Scholars, Knight-Hennessy Scholars, Churchill Scholars, Barry M. Goldwater Scholars, and Schwarzman Scholars.
About the Stamps Scholars Program
The Stamps Scholars Program was founded by E. Roe Stamps and his late wife Penny in 2006, with the purpose of enabling extraordinary educational experiences for extraordinary students. Through partnerships with institutions across the nation (and into the U.K.), Scholars receive annual awards that range from $5,400 to $75,000 (four-year awards total an average of $21,600-$300,000) with additional funds for enrichment activities such as study abroad, academic conferences, and leadership training. The Stamps Scholars Program and partner schools evenly share the costs of the award. Over 400,000 students were considered for the Stamps Scholarship in 2022, with only 260 students receiving the prestigious award.
For more information, contact:
Connelly Crowe
Director of Communications and Scholar Experience
connelly@stampsscholars.org