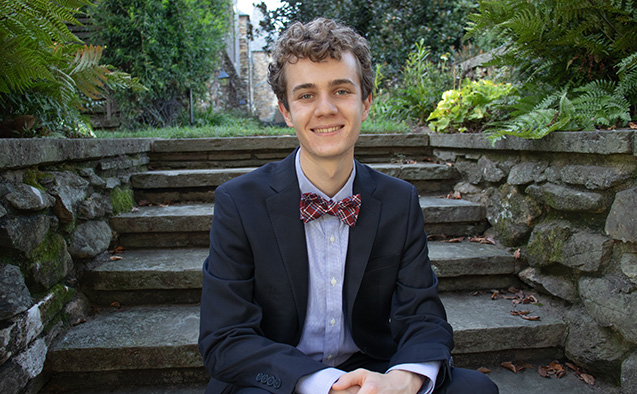 ATLANTA, GEORGIA — December 7, 2022 — Wake Forest University Stamps Scholar Tal Feldman has won a Schwarzman Scholarship for 2023-2024, joining nine Stamps Scholars who have previously earned the award. The scholarship supports a one-year master's degree at Tsinghua University in Beijing.
Created in 2016 by businessman and philanthropist Stephen A. Schwarzman, this fully-funded program was designed to build a global community of future leaders who will serve to deepen understanding between China and the rest of the world. The program offers the world's best and brightest students the opportunity to develop their leadership skills.
Tal Feldman is from Fort Worth, Texas and studies economics and mathematics at Wake Forest. He dreams of bringing emerging technologies such as Artificial Intelligence (AI) to the government so it can better serve its constituents. He has built AI models for the US Department of State, where he managed a team of interns, as well as to the Federal Reserve Board and various other federal agencies. He has published and presented papers on using AI for foreign policy and on making AI more fair. While studying abroad at the London School of Economics, he served as an AI advisor at the US Embassy in London. At Wake Forest, he served as president of Hillel and co-founded the Collegiate Association for Inequality Research. He is also a Truman Scholar and was elected to Phi Beta Kappa as a junior. After obtaining a master's with the Schwarzman Scholarship, he hopes to expand the government's use of emerging technologies. He also plans to continue playing jazz piano in his free time.
He credits the Stamps Scholarship with offering him a stellar education in the US and abroad, funding research projects, and "providing a community that has been instrumental in my journey thus far."
"The Stamps Scholarship was an unexpected blessing that opened so many doors I had not known even existed," he said. "I am incredibly grateful for the Stamps Scholars Program's steadfast support — I can say with confidence that I would not be where I am today without it."
Feldman joins a legacy of excellence. In addition to nine previous Schwarzman Scholars from the University of Georgia and the U.S. Military and Naval Academies, Stamps Scholarship alumni include Rhodes Scholars, Marshall Scholars, Harry S. Truman Scholars, Churchill Scholars, and Barry M. Goldwater Scholars, among other recipients of national scholarships.
About the Stamps Scholars Program
The Stamps Scholars Program was founded by E. Roe Stamps and his late wife Penny in 2006, with the purpose of enabling extraordinary educational experiences for extraordinary students. Through partnerships with institutions across the nation (and into the U.K.), Scholars receive annual awards that range from $5,400 to $75,000 (four-year awards total an average of $21,600-$300,000) with additional funds for enrichment activities such as study abroad, academic conferences, and leadership training. The Stamps Scholars Program and partner schools evenly share the costs of the award. Over 400,000 students were considered for the Stamps Scholarship in 2022, with only 260 students receiving the prestigious award.
For more information, contact:
Connelly Crowe
Director of Communications and Scholar Experience
connelly@stampsscholars.org