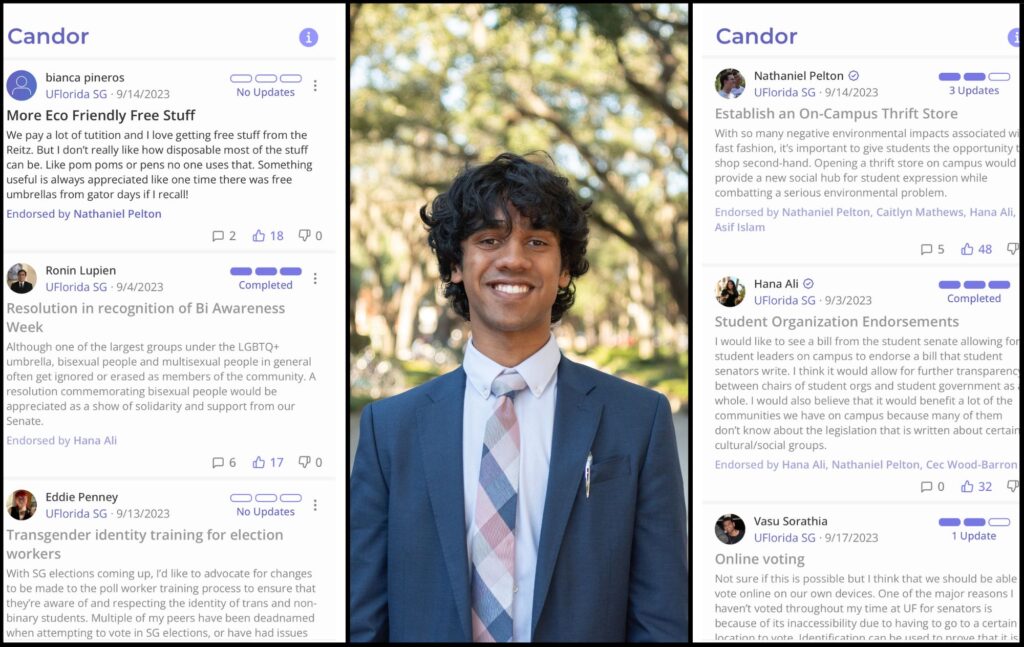 Second-year University of Florida (UF) Stamps Scholar Nishant Nagururu was brainstorming with friends on how they might use their knowledge and skills in computer science to make a difference in the world.
Nagururu, who is originally from Tampa, said, "We immediately thought of politics. Most people, including us, are unaware of who our representatives are and what they are doing for our communities. On the other side of that coin, politicians struggle with engaging their constituents and understanding their needs."
They decided to create Candor, an app bridging the gap between politicians and their constituents. For Nagururu and his team, the name embodies the ideal relationship between leaders and citizens – one that is open, honest and sincere.
They launched Candor at UF and Georgia Tech as a way for students to express their concerns to their student leaders/representatives. Through the app, students can communicate any ideas and concerns to the senators in the Student Government. The senators can then accept those ideas and start working on them, while students stay up to date on the progress. To promote transparency and trust, Candor also offers public profiles on the leaders, summarizing what they have done for their communities.
"We noticed that campus politics reflected the same shortcomings of macro-level politics in terms of the lack of communication and constituent engagement. Between UF and Georgia Tech, we have over 500 students on the app after only officially launching in August."
So far, proposals shared through Candor have been accepted and enacted by the student governments at both schools. As a result of one proposal, student organizations can now endorse Student Government bills. Other proposals have resulted in the creation of Bi-awareness week and extended hours for free printing.
Going forward, they hope to continue increasing the number of students and student leaders engaging with the app, and they have bigger dreams of expanding past student government to local, state, and maybe even national governments. Nagururu plans to pursue a career in software engineering that builds on his current pursuits.
"I want to work on an impactful project with cool technology and dedicated team members," he said. "I haven't even graduated but I am already there with Candor."