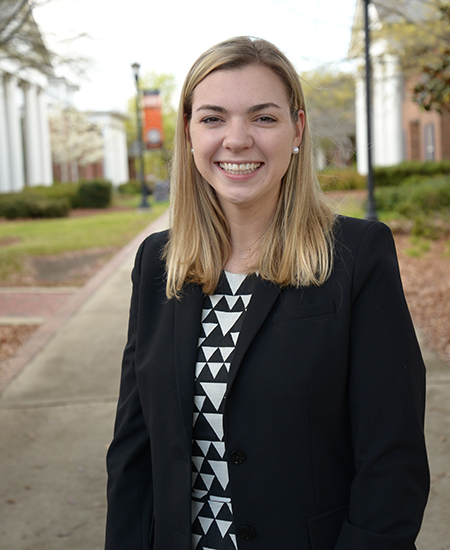 Degrees: B.S. in Neuroscience; B.A. in Women and Gender Studies; Minor in English
How did the Stamps Scholarship help shape your undergraduate experience?
The Stamps Scholarship has given me so much. First, it has allowed me to travel, to conduct research, and to engage in internships. More importantly, however, the Stamps Scholarship has molded me as a leader and a global citizen and encouraged me to be the best version of myself.
Tell us a piece of wisdom you've learned over the past four years.
Although college is obviously about academics and learning, what you will remember most are the connections you make. Investing in fellow student and faculty relationships are what will mean the most when you get to the end of your four years.

Who has had the greatest impact on you throughout your college career and how so?
My professors at Mercer have all been so encouraging and invested in my experience as a student. One professor in particular though made quite an impact on me. I stopped by her office hours my freshman year to discuss a question that I had. We ended up talking for over an hour. She was curious and genuinely interested about my life and my academic interests. After that, she became a true mentor to me. She encouraged me to study abroad, to conduct research, and to really go outside my comfort zone. The kind of investment she made in me cannot be repaid.
What's your favorite Stamps Scholar memory?
I really loved both of the Stamps conventions I was able to attend. Everyone I met was so interesting and passionate about so many things! I would start a conversation with someone and all of a sudden I was learning something new; no conversation was ever surface level. The Stamps Scholars are a wonderful group of people and I'm so grateful to be a part of this group.

What comes next?
I will be attending Mt. Sinai in New York City to earn my Masters in Genetic Counseling.
Please share your favorite inspirational quote.
"And above all, watch with glittering eyes the whole world around you because the greatest secrets are always hidden in the most unlikely places. Those who don't believe in magic will never find it." – Road Dahl