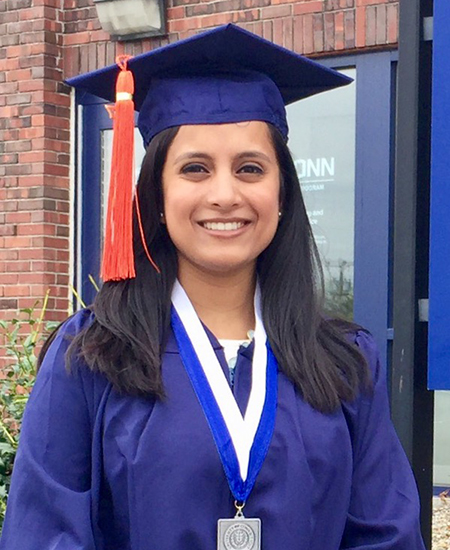 Degrees: B.S. in Biomedical Engineering; Minor in French and Francophone Studies
How did the Stamps Scholarship help shape your undergraduate experience?
The Stamps Scholarship gave me the funds and the confidence to do everything I aspired to achieve as an undergraduate. I can't even express in words how grateful I am for this scholarship and the community I am a part of because of it. Thanks to the Stamps Scholarship, I could push myself to be the very best that I could be. I had the time and freedom to take all the classes that would allow me to graduate with an engineering degree, a French minor, and all my pre-medical requirements completed, plus some fun courses! Outside the classroom, I was able to get really involved on campus in service activities and in a lab doing research. I also used my enrichment funds to study abroad in Toulouse, France, which had been a dream of mine since elementary school. The enrichment funds also allowed me to do summer research, go on a transformative alternative spring break trip, and present my research at a conference. Beyond allowing me to achieve individually, the Stamps Scholarship also gave me a community of scholars at UConn. As the inaugural Stamps Scholar here, I've really enjoyed seeing the program grow.
Tell us a piece of wisdom you've learned over the past four years.
My greatest takeaway from college is to take any opportunity you have time for. Some of my most meaningful college experiences have stemmed from an Honors event I went to on a whim and an opportunity I decided to apply for at the last minute. You are most likely to find what you love outside your comfort zone!

Who has had the greatest impact on you throughout your college career and how so?
It's hard to pin down one person. My parents, friends, students I worked with, and mentors have helped me grow in so many ways. I would not be where I am today without each and every person's endless support. Each individual has taught me so much, from a field-specific skill to leadership to just how to live life to the fullest.
What's your favorite Stamps Scholar memory?
I'd have to say the most recent Stamps Scholars National Convention. I had a really great time traveling with the 7 other UConn Stamps Scholars. On Thursday before the convention really started, we all ate a Southern dinner at Mary Mac's Tea Room in Atlanta. Our weird sides definitely came out, and combined with the great food, it was so fun!

What comes next?
After graduation, I will be starting medical school at Harvard University.
Please share your favorite inspirational quote.
"You have brains in your head. You have feet in your shoes. You can steer yourself any direction you choose. You're on your own, and you know what you know. And you are the one who'll decide where to go." – Dr. Seuss