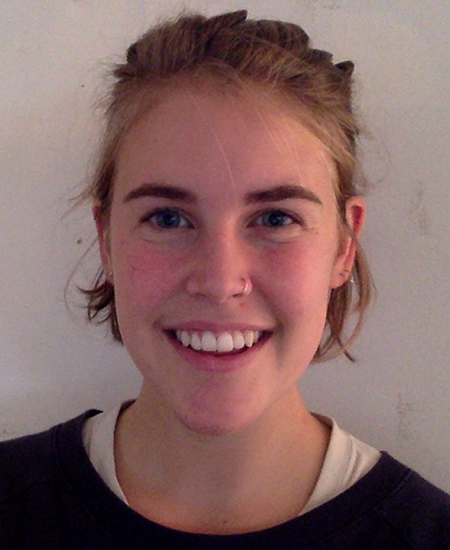 Degrees: B.A. in Visual Art with minors in English and Environmental Studies
How did the Stamps Scholarship help shape your undergraduate experience?
The Stamps Scholarship gave me the opportunity to travel over every winter term and go abroad without worrying too much about expense. My first year, I went to Costa Rica with an Oberlin program to do conservation work on trails in the Monteverde Cloud Forest. My second year, I interned at a non-profit organization in New York called Brooklyn Boatworks, building sailboats with middle school students during the after-school program hours. My third year, I hiked through Spain and Italy before studying abroad in Siena for a semester. Without the help of Stamps, I would have never been able to travel so freely and gain experience in so many corners of the world.
Knowing what you know now, what advice would you give your freshman self?
I wish I had gotten more involved with the local Oberlin community earlier in my college career, therefore my advice would be just that. This past winter term and semester tutoring at the high school and middle school has reaffirmed how much I love education and working with students. It is also an important bond to make with the community in which one lives for four years.
Who has had the greatest impact on you throughout your college career and how so?
Academically, Professor Sandra Zagarell has been an incredible mentor for me throughout my time at Oberlin. Since I took her "What is a Book" course during my sophomore year, she has taken it upon herself to help me talk through my ideas and put them into writing, no matter the subject. I am forever grateful for her support as an academic and a mentor.
What's your favorite Stamps Scholar memory?
Attending the 2015 Stamps Conference in Atlanta, GA was an incredible experience. From traveling there as an Oberlin Stamps group, to meeting scholars from across the country, to seeing the sight in Atlanta, it was a really valuable trip. Specifically, I enjoyed being in the Visual and Performing Arts work thread, mingling with students who share my interests and passions. I learned a lot about networking while also hearing Stamps stories from across the nation.
What comes next?
I'm planning on combining my interests in education, art, and nature to work at an urban farm, botanical garden, museum, or non-profit organization. Architecture school is in the back of my mind as well. Long term, I would love to work full-time transforming vacant lots and abandoned areas into gardens and art spaces with students in the local community.
Please share your favorite inspirational quote.
"Like a tropical storm, I, too, may one day become better organized." -Lydia Davis